Even though we may not think too much about them, we expect a lot from our tires because so much is riding on them. Literally. Choosing the correct
Subaru tires near New Orleans LA
can help your vehicle reduce road noise, ride better, and even improve fuel economy.
There are so many types of tires and tire models available that it can be overwhelming when buying a new set for your car, truck, or SUV. Choosing a type should really depend on the conditions in which you drive, the performance you want from them, and of course, your budget.

 
Subaru tires near New Orleans LA: Tire Types


Most vehicles sold in today's market come with all-season radial tires, which are well-matched for a range of road and weather conditions. These are like a "jack-of-all-trades" type tire, and although they perform adequately, they don't really stand out in any one area. Basic all-season tires have tread patterns that help them ride fairly quietly, have extended wear, and perform as expected in most weather situations. These are what your Subaru came equipped with from the factory, and are usually the right selection for compact and subcompact vehicles that don't need higher-performance tires.
However, if your car has a little more power and handling capabilities, such as a Subaru WRX or BRZ, you'll probably want to buy Subaru tires near New Orleans LA with more of a performance edge. Performance all-season tires lose some of their tread life and snow traction in exchange for delivering more grip when you're out driving with gusto. Additionally, they have outstanding braking ability and dry and wet acceleration. And let's face it, are you really worried about snow traction in southeast Louisiana?


If your top concerns for tires are ride comfort and low noise levels, touring and grand touring all-season tires fit the bill. These tires keep their seasonal abilities while still providing long tread wear and a smooth ride so they're a great choice for daily commuting and long-range traveling.  Touring all-season tires are an affordable choice for hatchbacks or sedans such as the Subaru Impreza. Grand touring tires have tread patterns that are designed for an even quieter and smoother ride. You might choose these Subaru tires near New Orleans LA for your Legacy or Ascent, but expect to give up some dry weather handling when you compare these to performance all-seasons.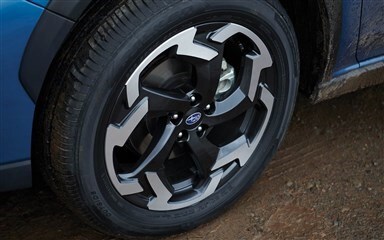 Summer tires perform best when there's no chance of getting into winter conditions. The designs and tread compounds are made to have incomparable grip, especially when the road surface is dry and warm. In exchange, they're not so great when temperatures drop because the tread compounds stiffen. Since they're intended for higher-performance cars, they can wear out more quickly, even more so if they're pushed to their limits.
Louisiana drivers don't really need to worry about snow and ice, but if you plan to drive your vehicle in a place that does, consider getting tires for those conditions. Winter (snow) tires aren't meant for use year-round, and perform best when there's ice or snow on the pavement. Due to a more flexible rubber compound, they wear very quickly when temperatures are high.


Chances are your Subaru spends most of its time on paved roads but still needs to be able to tackle unpaved ones as well. All-terrain Subaru tires near New Orleans LA combine on-road effectiveness with durability and more aggressive tread patterns for light or moderate off-road adventures. Equipped with these, your ride will be louder and get lower fuel economy.


Vehicles that go off-roading repeatedly may need off-road, maximum traction tires. These can help prevent getting stuck while you're negotiating deep mud or sand. Mud tires are optimized for off-road with large tread blocks and wide, deep grooves. They have heavy-duty construction and don't offer a smooth ride on pavement.


Now that you know a bit more about the different varieties of tires, start doing some preventative maintenance and tire inspection of your own. When you notice uneven tread or the tread is wearing, you can start planning for the right replacement tires that you want.