The 2021 Subaru Love Promise Customer and Community Commitment Award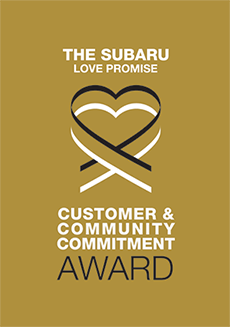 We've been nationally recognized for our dedication to our customers, our community, and the Subaru Love Promise.
We're honored to receive the 2021 Subaru Love Promise Customer and Community Commitment Award. This award nationally recognizes elite Subaru retailers who provide an exceptional customer experience at every interaction with Subaru. These retailers have also demonstrated an outstanding commitment to supporting passions and causes in their local communities in important areas such as the environment, community, health, education, and pets.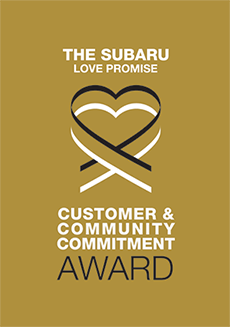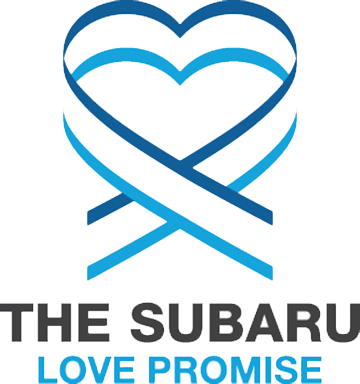 What is the Subaru Love Promise?
Subaru and our retailers believe in making the world a better place and the Subaru Love Promise is our vision of respecting all people. This is our commitment to show love and respect to our customers and to work to make a positive impact in the world.
How is Baldwin Subaru dedicated locally to the Love Promise?
Our Love Promise can be seen in various partnerships with local charities and non-profits. We're grateful for the opportunity, not only to be a part of our community, but to serve it as well.
SPCA, St. Tammany Department of Animal Services, Northshore Humane Society, Mardi Paws
Northshore Food Bank, Covington Rotary Club, Feeding the Needy, Safe Harbor, United Way
Mary Bird Perkins Cancer Center
Love Promise Stories from Baldwin Subaru
Subaru and Baldwin Subaru believe in making a positive impact on the communities in which we live and work. We uphold that belief through our Love Promise Community Commitment. Every month, we select inspiring stories from customers and partners from around our area who strive to support our collective commitment and feature them here
Subaru Helping Subaru After Hurricane Ida - Lindsey R
On August 29th, 2021, the 19th anniversary of Hurricane Katrina, our community was rocked by yet another catastrophic hurricane. Hurricane Ida made landfall just shy of a category 5 storm, leaving a path of destruction behind it. Driving through our hometown was difficult, both physically and emotionally. Trees are still down, roofs are gone, and power was out for weeks. We knew we had to help. After ensuring the safety of our team, we began gathering needed supplies for the community. Four days after the storm passed, the road was cleared enough to reopen our doors with free supplies for the community. We offered personal care items, water, food, pet food, first aid supplies, batteries, baby supplies, and more. Even with damage at home, many of our employees came in to help acquire and distribute the needed supplies. We also utilized our local food bank and United Way chapter to ensure the supplies were accessible to community members who did not have the means to get to our dealership. Supplies went quickly and the community was beyond thankful. While we restocked the products that were available locally, we struggled to find the most sought-after item in Louisiana - blue tarps. That is until we reached out to our good friends at Fiesta Subaru in Albuquerque. The team at Fiesta Subaru saw the devastation our community was facing on the news and was happy to lend a hand. When they learned roof tarps and work gloves were almost impossible to find here in Louisiana and were the most necessary cleanup supplies, Fiesta Subaru offered to not only purchase those much-needed items but to donate them to our hurting community. The next day we had 50 tarps and 50 pairs of gloves heading down to Covington, Louisiana! Once the donated supplies arrived, we partnered with United Way of Southeast Louisiana to distribute the items to the people most affected by the storm, just in time to stabilize before being hit with yet another storm. "Thanks to the steadfast support of partners like Baldwin Subaru, United Way of Southeast Louisiana is responding at the speed of need to our neighbors' most pressing challenges in the wake of Hurricane Ida. Not only does Baldwin Subaru support our community and United Way year-round through their workplace giving, but they immediately stepped up to organize a supply drive for Ida relief, supplying tarps, work gloves, pet supplies, food and so much more. Even Fiesta Subaru in Albuquerque shipped in supplies! Their support is proof that when we all work together, United, to meet the needs of those who are most vulnerable, good things can happen." - Michael Williamson, President, and CEO. Thankfully, we kept some supplies on hand, allowing us to deliver them to our customers and employees in need. One of these customers is a local teacher with a severely damaged roof. We were able to deliver a tarp and gloves to her home in time to help protect her house against further damage from the next rain. Our employee, Kenny, also experienced roof damage and we were able to get him the item he and many others had been searching high and low for. "Coming back to work after the storm was difficult. Stress and emotions run high when your home life is literally in shambles. My house experienced roof damage during Hurricane Ida, allowing rainwater to come in. My wife was worried about the house and our 3 childrens' belongings being ruined with another system heading our way. I searched for a roof tarp for an entire week with no luck. The minute I heard we had tarps on the way, I put my name on the list! I'm thankful the company I work for looks out for its people and the community." - Kenny G., Service Advisor. To make this all possible took acts of kindness, teamwork, and community commitment by everyone involved. Thank you, Fiesta Subaru, for offering aid to a fellow Subaru dealership in need; and United Way SELA for getting the supplies to the hardest-hit areas. Most importantly, we thank our community for allowing us to serve them. We will always be here for you. -The Baldwin Subaru Team
---
Helping pets in Hurricane Ida's aftermath - Denise G
Louisiana is known for a lot of things, and sadly hurricane destruction is one of them. Hurricane Ida recently hit the state on the anniversary of Hurricane Katrina and delivered a powerful blow to parishes in it's path. St. Tammany Parish took on extensive storm damage from the high winds and flooding resulting in 95% of the parish without power and running water, not a good combination for the health and safety of people and pets in the area. Baldwin Subaru has always been a true community partner of our parish's only open admission animal shelter located in Lacombe, Louisiana, St. Tammany Parish Dept. of Animal Services. With a "Love Strikes Twice certified pre-owned pets" Adoption Event slated for September to highlight the 200+ adoptable dogs and cats in the shelter, they immediately pivoted and focused their efforts on a much-needed transport. Transports free up shelter space holding animals that were available for adoption before the storm, so the shelter staff can focus on recovery and saving displaced family pets, as well as all the abandoned and stray animals coming in. All of the animals transported out of the shelter are unowned or surrendered by their owners and are quickly made available for adoption at the receiving shelters in the northeast. As a result, with 90 plus animals headed to a new leash on life through transports, this shelter was able to take in 35 animals at risk of heat stroke four days after the storm from a rescue with no power or water, and still had room for the shelter's recovery operations The animal loving folks at Baldwin Subaru & Baldwin Motors are always willing to do whatever it takes to make an impact in the lives of unwanted and discarded pets in our parish. We love partnering with them, and are very appreciative of their year round support of the animals at our high intake shelter in Lacombe!
---
Baldwin Subaru Adopts 20 Classrooms - Lindsey R
On August 27th, the Baldwin Subaru team visited our Subaru Loves Learning school of choice, Pine View Middle School. For the big reveal of the partnership, Pine View invited us onto the school morning broadcast. This way, we could keep the meeting COVID friendly. We announced to all the students and staff that we donated $10,000 for their teacher's classrooms, benefiting up to 500 students. The 6th-grade broadcasting class prepared an intro teaser video for the broadcast showing snippets of our dealership before cutting to us for the big announcement! The best part of the meeting was finding out how the school will utilize the funds. Pine View Middle is the only middle school in the area, meaning all of the surrounding elementary schools feed into this school from 4-6 grade. Resulting in the school having the most special needs and special education classes in our area. A portion of the money will be spent on purchasing special seating for these children. Depending on the disability, a bounce, wobble, or "fidget" chair may be needed. Now the school has the resources to finally make this happen to keep these children conformable throughout the school day! To further show our appreciation to the teachers, the Baldwin Team didn't show up empty-handed. Chris and Lindsey brought PJ's Coffee, scones, and 50 $10 gift cards for the teacher's lounge! The teachers appreciated the pick-me-up as our area was preparing for hurricane Ida that day. All of the staff were appreciative and excited about the partnership. We feel as though we selected a very deserving school and look forward to more volunteer opportunities and partnerships in the future.
---
Baldwin Motors Hosts a "S.O.S" Drive - Ginger K
Northshore Food Bank and The Blood Center partnered this summer to ask area businesses to "Stock Our Shelves (SOS)!" The summer months are historically a low donation season for both Northshore Food Bank and The Blood Center. Baldwin Motors helped save the summer for both by hosting a drive, bringing in ten blood donors and 35lbs of nonperishable items. They also doubled the donation dollars by bringing in an additional $100 in monetary donations. Thank you!
---
Keep Covington Beautiful Earth Day Event - Priscilla F
Keep Covington Beautiful is very grateful to Baldwin Subaru for being a co-sponsor of our annual Earth Day event, "Paper Shredding Day". This very popular event provides secure document shredding and recycling at no cost to Covington residents. Baldwin's help in promoting the event and their donation to KCB helped us reach more residents and provide this free service to them. Our volunteers counted 177 people drove through the line and dropped of 410 boxes or bags of documents. It is estimated that about 6,200 pounds of paper were diverted from the landfill by this successful event. Thank you Baldwin Subaru!!!
---
Baldwin Subaru helps homeless pets Get Lucky! - Penny B
Our local Subaru dealer, Baldwin Subaru, exemplifies the Subaru Loves Pets promise all year long by providing a year round commitment to our parish's open admission, high intake animal shelter, the St. Tammany Parish Department of Animal Services. March was no exception, with Baldwin Subaru sponsoring freedom rides for at-risk shelter pets to the northeast and closing out the month's worth of fun at their You Lucky Dog Adoption event on March 31st. Our shelter is able to bring pup's out to the dealership for socialization and adoption, and "luckily" with all the employees and customers animal lovers, it's always a great day for dogs! We are so appreciative of the support they have provided to the shelter over the past year when the pandemic limited opportunities for our parish's unwanted pets to gain exposure.
---
Blankets Warm Hearts of Patients Battling Cancer - Erica K
Every year the patients at Mary Bird Perkins Cancer Center love receiving the blanket donation from Baldwin Subaru. This year, one patient was so excited to receive a blanket that he covered himself with the blanket in his wheelchair right away! Mary Bird Perkins Cancer Center is grateful for the support of community partners like Baldwin Subaru who not only support patients undergoing treatment, but are also working to make a difference in the community by collaborating with the Cancer Center Early Detection and Prevention team to offer free community cancer screenings at the dealership.
---
Baldwin Subaru sponsors #FreedomRides - Denise G
For the month of March, Baldwin Subaru partnered with Mardi Paws for a month of St. Paw-trick's fun to promote hard to adopt dogs and cats from St. Tammany Parish Department of Animal Services shelter; and give some #LuckyDogs a Freedom Ride to a new leash on life in the northeast. There are only 3 ways un-wanted pets get out of the shelter: by adoption, by transports, or by euthanasia, and we don't want to see the third choice happening. All month we're highlighting shelter dogs and cats in their finest St. Patrick's attire. In fact the photoshoot was so pup-ular, it was featured in People, Southern Living, Yahoo News, and even picked up by local television outlets. The needed exposure for these homeless pets is a life changer, just as the transports are. They allow dogs that have been overlooked locally get a fresh start with rescues in the northeast where there is a waiting list for pets. We are so lucky to have a partner in Baldwin Subaru, from the owners on down, they are genuinely committed to saving animal's lives and supporting so many in our community. They certainly exemplify #SubaruLovesPets promise.
---
Baldwin Subaru sponsors Valentine's Adoption Event - Debbie B
We're so lucky our local Subaru dealer is committed to bettering the lives of unwanted pets in our community. With the pandemic, animal shelters have been hurt by restricted adoptions and social distancing requirements for events. The animal loving owners and staff at Baldwin Subaru are always willing to provide a safe, open space for our local open admission animal shelter to host pop-up adoption events like our recent "Love Stinks" Valentines- themed one. The high intake shelter was able to showcase some dogs/cats that not only longed for a fur-ever home, but needed adopters willing to carry out medical treatment through completion. Even though it was bitter cold outside, the showroom was filled with warm hearts of animal lovers! We had a great day showcasing some of the adoptable animals from St. Tammany Parish Dept. of Animal Services! We loved seeing the smiles and kisses from pets and people alike, and this day would not have been possible without support from committed and caring businesses and their owners, like the Baldwin's. Thank you.
---
Baldwin Subaru helps homeless pups Go for the Win - Penny B
Since the onset of the pandemic, our local Subaru dealer in St. Tammany Parish has been providing safe and socially-distanced outlets for us to showcase our homeless pets in need of loving homes. Their dealership has allowed us to set up outdoor pop-up adoption events over the past year and they recently sponsored a Pooper Bowl 2021 adoption event for our St. Tammany Parish Dept. of Animal Services open admission shelter tied in with the Super Bowl. Although the outdoor event had to be cancelled due to rain, they provided a lot of virtual on-line exposure which resulted in funds being raised to transport all 6 homeless animals which were part of the campaign to the northeast and into loving homes. The Baldwin Subaru owners and staff have played a pivotal role over the past year saving animal's lives through their support of our shelter and we are all very appreciative.
---