The 2020 Subaru Love Promise Customer and Community Commitment Award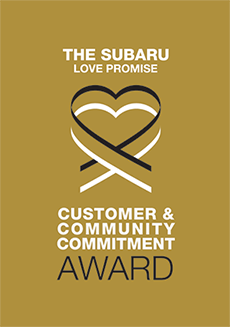 We've been nationally recognized for our dedication to our customers, our community, and the Subaru Love Promise.
We're honored to receive the 2020 Subaru Love Promise Customer and Community Commitment Award. This award nationally recognizes elite Subaru retailers who provide an exceptional customer experience at every interaction with Subaru. These retailers have also demonstrated an outstanding commitment to supporting passions and causes in their local communities in important areas such as the environment, community, health, education, and pets.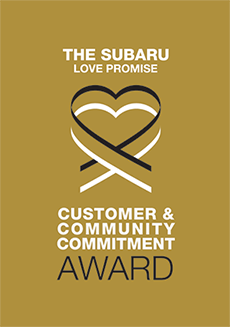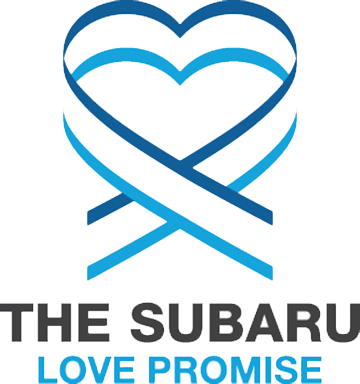 What is the Subaru Love Promise?
Subaru and our retailers believe in making the world a better place and the Subaru Love Promise is our vision of respecting all people. This is our commitment to show love and respect to our customers and to work to make a positive impact in the world.
How is Baldwin Subaru dedicated locally to the Love Promise?
Our Love Promise can be seen in various partnerships with local charities and non-profits. We're grateful for the opportunity, not only to be a part of our community, but to serve it as well.
SPCA, St. Tammany Department of Animal Services, Northshore Humane Society, Mardi Paws
Northshore Food Bank, Covington Rotary Club, Feeding the Needy, Safe Harbor, United Way
Mary Bird Perkins Cancer Center
Love Promise Stories from Baldwin Subaru
Subaru and Baldwin Subaru believe in making a positive impact on the communities in which we live and work. We uphold that belief through our Love Promise Community Commitment. Every month, we select inspiring stories from customers and partners from around our area who strive to support our collective commitment and feature them here
Baldwin Subaru helps homeless pups Go for the Win - Penny B
Since the onset of the pandemic, our local Subaru dealer in St. Tammany Parish has been providing safe and socially-distanced outlets for us to showcase our homeless pets in need of loving homes. Their dealership has allowed us to set up outdoor pop-up adoption events over the past year and they recently sponsored a Pooper Bowl 2021 adoption event for our St. Tammany Parish Dept. of Animal Services open admission shelter tied in with the Super Bowl. Although the outdoor event had to be cancelled due to rain, they provided a lot of virtual on-line exposure which resulted in funds being raised to transport all 6 homeless animals which were part of the campaign to the northeast and into loving homes. The Baldwin Subaru owners and staff have played a pivotal role over the past year saving animal's lives through their support of our shelter and we are all very appreciative.
---
BALDWIN SUBARU SUPPORTS MARDI PAWS ADOPTIONS - Debbie L
Our local Subaru dealer, Baldwin Subaru, has been committed to providing safe adoption opportunities to our parish's animal shelter during this pandemic, which has truly been a lifesaver for some pups. They sponsored our Mardi Paws Dog House Float initiative which has even been mentioned in the Wall Street Journal, aimed at spreading good cheer in the community during a "no parades" Mardi Gras season while at the same time drawing attention to the plight of the homeless pups at the St. Tammany Parish Department of Animal Services in Lacombe, the only open-admission animal shelter in the parish. The Baldwin family sponsored a very visible Dog House Float which allowed the community to stop by and take photos over a month-long period, and allowed small weekend pop-up adoption events where we could showcase, on a much smaller scale, dogs that needed some extra attention and care by prospective adopters to complete needed medical treatment. The downsized pop-ups which were held outside offered a safe and socially-distanced option for our shelter and volunteers. From the owners to the employees, the Baldwin Subaru automotive family has truly made a difference for so many unwanted pets in our community, and we are truly appreciative.
---
Baldwin Motors Home 4 the Holidays Adoption Event - Susie K
On December 12th 2020, Baldwin Motors Subaru of Covington hosted their annual Home for the Holidays Mega Adoption Event. The day was a huge success for homeless animals in our community. Over 30 dogs and cats from Northshore Humane Society and multiple rescue agencies found their forever families and will now spend this holiday season in the warmth and comfort of a home! The day's festivities also included live music by Christian Serpas and Ghosttown Duo, delicious food, vendors and holiday family photos.
---
Baldwin Subaru Unleashes Joy for Shelter Pets - Amy D
4 Paws Up to the Baldwin family and all the animal loving employees at Baldwin Subaru for helping us "Unleash Joy" for shelter pets over the holiday season! Scott's Wish, helping people and pets since 2008, teamed up with our local high intake animal shelter to try and make life in the shelter a little easier over the holidays for un-wanted pets. In addition to providing home-cooked, veterinarian-approved meals, we stuffed stockings loaded with toys and treats that went home with all the animals adopted during the month of December or were hung on the kennels for those still waiting for their forever homes. Baldwin Subaru is always helpful providing a drop-off location for shelter wishlist items, and their employees made sure the WRX was loaded with lots of goodies for the shelter! Baldwin Subaru has supported all of our adoption initiatives over the past year and as a result a Christmas miracle came early to the shelter on December 17th when their kennel count dropped to an all-time low of just 21 dogs. That's down from a high of 200 dogs earlier this year. It was the best present the staff could have received and it would never have been possible without the ongoing support of our partners like Baldwin Subaru. All of us at Scott's Wish are truly grateful for the dealership's commitment to the community.
---
BALDWIN SUBARU'S HOLIDAY MEGA-ADOPTION EVENT - Penny B
Our open admission animal shelter in St. Tammany Parish, Louisiana was hard hit by covid closures. Adoptions were stopped for some time, then restricted, and as a result we have been struggling to find opportunities over the fall months to promote our adoptable pups in a safe, socially distanced manner. Our local Subaru retailer, Baldwin Subaru, stepped up for us last year in so many ways including sponsoring transports and adoption initiatives. Each year in December, they host a mega-adoption event and always invite us. This year's invitation was especially meaningful. The event allowed us an opportunity to promote and adopt out some of our homeless pups needing some extra special attention by adopters willing to continue ongoing medical treatment for skin problems, heartworms, etc. The adoption event was an overwhelmingly success and thanks to efforts such as these, over 1,700 animals have left our shelter through adoptions, rescue transfers, or returned to their owners in 2020. Thanks Baldwin Subaru, for always stepping us when we need your help at the shelter!
---
BALDWIN SUBARU GIVES BARKSGIVING MEALS TO SHELTER - Debbie L
Thanksgiving felt a lot different this year to the unwanted pets at St. Tammany Parish's open admission shelter in Lacombe Louisiana. Not only does our local Subaru dealer host multiple adoption events throughout the year to gain exposure for these homeless animals, but they are also committed to bettering their lives while they're in the shelter waiting on their forever homes. This year over the holidays, the animals were treated to a veterinarian-approved, home-cooked meal which included chicken/turkey breast topped with cranberry sauce, jasmine rice with gravy, peas and carrots, green beans, and a pumpkin peanut butter pupcake for dessert. The animals were all brought out of their kennels in small groups and ate outside on festive tablecloths. Our annual shelter budget is consumed with necessities you see as a result of our high animal intake. If it were not for the generosity and kindness of our community, and folks like the Baldwin's, these extra special offerings would never be possible. Hats off to the Baldwin's and Subaru for their commitment to better the lives of animals- their love and support means the world to so many animals that wind up in shelters through no fault of their own.
---
BALDWIN SUBARU HELPS SHELTER PUPS SLEEP EASIER - Denise G
Baldwin Subaru may not be the largest car dealership in the country, but they certainly are one of the most charitable and giving! Their community involvement and philanthropy starts at the top and sets an example for all their employees who love giving back to their community. When it comes to the promise of Subaru helping Pets, you would be hard-pressed to find a dealership that cares more than the Baldwin family. They recently sponsored our socially distanced Canine Trunk or Treat to raise funds for shelter beds for homeless animals in our local high-intake shelter. Baldwin Subaru may not be the largest car dealership in the country, but they certainly are one of the most charitable and giving! Their community involvement and philanthropy starts at the top and sets an example for all their employees who love giving back to their community. When it comes to the promise of Subaru helping Pets, you would be hard-pressed to find a dealership that cares more than the Baldwin family. They recently sponsored our socially distanced Canine Trunk or Treat to raise funds for shelter beds for homeless animals in our local high-intake shelter. For shelter pups, being abandoned by the family you thought loved you is tragic. It's a tragedy compounded by the fact that instead of sleeping on the family bed, or on a warm blanket inside, now you are sleeping in a cold, drafty kennel on a rock-hard concrete floor. That is the reality for most shelter dogs. Some dogs sleep right on the concrete. Some have newspaper to shield them a bit from the cold of the solid floor. Other shelters may provide a blanket, but even a thick blanket provides little protection from the chill that emanates from unheated concrete. Shelters must clean the kennels daily. That involves using liquid cleaners and lots of water. Blankets get wet and must be washed. It isn't practical for many shelters with lots of occupied kennels like ours. So, the dogs make do with sleeping on the hard floor. Thanks to the generosity of Baldwin Subaru and their sponsorship of our BARKING DEAD presents THRILLER t-shirts (see the shelter employees showing off theirs) and our fundraising event, our pups are going to be sleeping much better this winter on their new Kuranda shelter dog beds. From all of us at Mardi Paws, we're fur-ever grateful for Baldwin Subaru's commitment in the community!
---
BALDWIN SUBARU SUPPORTS BARK FOR A CURE - Denise D
Baldwin Subaru owners have been giving back in their community for almost 70 years. The Baldwin's are committed to not only serving their customers, but their community as well. Baldwin Subaru sponsors event after event helping people and pets and recently sponsored our Bark for a Cure Fundraiser helping local patients at Mary Bird Perkins Cancer Center (MBPCC) in Covington, Louisiana. When someone is diagnosed with a life-threatening illness financial stability often vanishes due to the inability to work, and transportation and housing can be affected. By partnering with us to support MBPCC patients we've been able to fund local lodging and transportation requests from patients receiving cancer treatment and are homeless, in need of a cleaner environment during treatment, or just need a couple nights lodging before or after treatment days if they are driving in from out of town. Here's an example of how funds assist the community. A woman from Bogalusa was recently treated for breast cancer. She struggled with transportation as she had no car. There were days when her friends could bring her to treatment, but other days when all her friends were working, and she had to find another way to get to treatment. She persevered and stayed positive. Because of partners like Baldwin Subaru, their social worker was able to provide her with gas cards and rides from a transportation service. When out of pocket costs began to add up and she struggled with paying bills, the patient received assistance with her utility bill. She also received a patient care box of food and hygiene staples. Their dietitian provided the patient support in making good food choices to aid in her treatment. In addition to addressing these barriers, the Mary Bird Perkins Cancer Center team was able to provide emotional support to the patient and connect her with additional local resources. Baldwin Subaru also supported our AmbassaDOG fundraising teams and sold our t-shirts and raffle tickets, they're always willing to lend a paw! All of us at Scott's Wish are very thankful to the support of Baldwin Subaru. Their genuine concern for others in their community is evident day in and day out at their dealership.
---
Fall in Love Adopt-a-Thon - Susie K
Each year, Baldwin Subaru of Covington and the ASPCA partner with our rescue (Northshore Humane Society) for an annual grant program to host an adoption event at their dealership. Due to the pandemic, this year looked a little different and the event took place at our location. With non-profit organizations forced to cancel fundraising events, Baldwin and Subaru dealers went even a step further and donated $100 for each animal adopted during the month of October. We are so happy to report over 20 of our homeless animals found their forever family at the Fall in Love Adopt-a-Thon which took place October 17th. Furthermore, over 100 animals have been adopted through our rescue in the month of October!!! We are so grateful for Baldwin's unwavering kindness to our organization. We truly couldn't save lives without their support and are excited to host the Home for the Holidays Adoption Event at their dealership this December! Keep an eye out for those dates coming soon!!!
---
Baldwin Subaru flies shelter pets to safety - Denise G
Baldwin Subaru exemplifies Subaru's initiatives making a difference to help shelter pets find loving homes. The south's animal shelters are infamous for high pet populations of strays, abandoned and owner-surrendered animals through no fault their own. There are only 3 ways an animal can get out of the shelter and that is through adoption, transport or euthanasia, and no one wants to make the third choice. There are just not enough people willing to adopt all these animals locally – especially when our open admission shelter takes in over 4,000 animals a year. Covid had stopped, and then restricted adoptions for months, and the overcrowding had reached an all-time high this past summer. With the support of the folks at Baldwin Subaru, through our Summer Lovin' and Lend a Paw initiatives buying crates for transports, we were able to save the lives of hundreds of animals from our local open admission shelter in Lacombe, Louisiana. When we approached them about sponsoring an entire "Wings of Rescue" flight to pay it forward and help many shelters across southeast Louisiana, they didn't even let us finish the sentence before they said "Count us in!" The animal-loving Baldwin Subaru staff, from top to bottom, are very generous with their time and support throughout our community, and wholeheartedly believe in Subaru's philosophy of "returning the love pets give us!" There is no cost to the shelters that are sending these pets on transports, but the flights costs $25K on average. The planes can transport 100-130 animals but the number varies as it's dependent on the weight of animals. Baldwin Subaru's sponsorship allowed at-risk pups from thirteen (13) high intake shelters across southeast Louisiana and Mississippi to be given a new leash on life in the northeast. Unbelievably, there is a shortage of animals up north for many reasons including responsible pet ownership and tough spay/neuter legislation. Animals that could stay for a year or more in Louisiana without a chance for adoption, and that is if they have got room in the shelter to keep them that long; quickly find their forever homes. Almost all of our shelter pets from the 9/26/20 were in homes this past week, and 7 were adopted the very next day, spending the next night in their new fur-ever home. The Baldwin Subaru sponsored flight saved the lives of pets from all these shelters! St. Tammany Parish Dept. of Animal Services - St. Tammany Parish St. Bernard Animal Services & Shelter- St. Bernard Parish St Charles Animal Services & Shelter - St. Charles Parish Tangipahoa Animal Services & Shelter - Tangipahoa Parish Cara's House - open admission shelter for Ascension Parish LASPCA - Orleans ParishAcadiana Animal Aid - Acadiana parish Jefferson Parish Animal Services & Shelter - Jefferson Parish Terrebone Animal Services & Shelter - Terrebone Parish Animal Aid for Vermillion Area (AAVA) - Vermillion Parish Lafayette Animal Shelter & Care Center (LASCC) - Lafayette Parish St. Martin Animal Services & Shelter - St. Martin Parish Hoof Beats and Paw Prints Rescue - MS shelters The pets were flown to our Receiving shelters: Brandywine Valley SPCA - Delaware St. Hubert's Animal Welfare Center - New Jersey Thanks to Baldwin Subaru's commitment and support we can report "Happy Tails" for about 100 pups (+ one homeless rabbit) including CHUBBS! This poor pup had been owner-surrendered at 9-10 yrs of age and was in terrible shape. In fact so matted, when the wonderful folks at St Bernard Animal Services started cleaning him up they found wire embedded in his paw! He became an incredible lucky pup in less than 24 hours because of our life-changing flight, in his case, to the wonderful, animal-loving folks at Brandywine Valley SPCA in Delaware where an amazing couple brought CHUBBS into their hearts and homes the VERY NEXT DAY! Thanks to the pet-friendliest dealership in town, Baldwin Subaru, for their caring and support of our high intake shelter!
---
BARK WEEK at Baldwin Subaru, Covington, LA - Denise G
Mardi Paws presents BARK WEEK each year – our barky and sharky spoof of the Discovery Channel's long-running and highly anticipated Shark Week. Our non-profits celebrate with over a week's worth of fun and freebies (contests, give-a-ways, & daily bites) all to draw attention to the St. Tammany Parish Department of Animal Services shelter in Lacombe, Louisiana. The parish's only open-admission shelter takes in thousands of abandoned, stray and owner-surrendered animals each year, and they need the community's help re-homing all these unwanted pets. Just mention "shelter pup" to anyone at Baldwin Subaru and they jump through hoops wanting to help. As an O-FISH-al sponsor of BARK WEEK, Baldwin Subaru helped us end the week with a big splash by hosting an event raising funds for shelter necessities like Kuranda beds to make the pups stay a bit more comfortable, all the while helping us promote some of our adoptable dogs! They sponsored a sno-ball truck and gave away Free Bark Attack + Shark Attack snowballs for the afternoon event, had paw-some and jaw-some photo props for pups, and fun Subaru dog toy give-a-ways as well. Subaru is lucky to have the Baldwin Family on board because from the top down, they are all dog lovers and fulfill Subaru's philosophy celebrating their furry friends and returning the unconditional love of pets. I know our non-profit is very lucky to have Baldwin Subaru's support and generosity helping our high-intake shelter.
---
Remarkable Service - Alton S
We purchased our first Subaru a little over a month ago. We went with the 2020 CWP Ascent Limited and could not be happier with our purchase. Our dealership was wonderful! They went above and beyond to make sure all of our needs were met. Everyone we came into contact with at the dealership was amazing. They even provided my husband lunch that day! We have never had a dealership treat us like this and that to us meant everything. Our car has been fantastic. We are extremely happy with our purchase and we get many compliments about how nice our car is. Thank you for providing such an excellent product!
---
Summer Lovin' for longtime shelter residents - Denise G
Our local Subaru dealer, Baldwin Motors, is all about pups and paw-tnering to make a difference in the lives of shelter animals. They are always willing to lend a paw to pups in need! And the parish's high-intake open admission shelter animals are in desperate need. The shelter takes in about 4,000 stray, abandoned and owner-surrendered animals each year, and they need the community's help re-homing these unwanted pets. Baldwin Subaru partnered with us this summer by encouraging people to share the love & consider adopting a longtime animal shelter resident! It's hard to say why some animals are adopted lickety-split, while for others this process can take years. (And don't forget-in dog years, it's even longer.) It could be they're the wrong color or the wrong age, or that they're too shy to make a good first impression. All the animals we're highlighting have one thing in common - they've all been waiting for a very long time for someone to take them home. Most of the dogs have been in the shelter well over a year, and many adopted and returned making the time much longer. Baldwin Subaru's commitment and support allowed us to print Summer Lovin' t-shirts to give out to each person who adopted from the shelter this summer, in addition to their promotion of pets through flyers. As a result, we have found 4 of the 5 pups on the attached flyer their fur-ever homes during the month of July, and we're partnering on new pups next month for the Clear the Shelters event! We are so thankful to the dog loving team at Baldwin Subaru for their support and generosity on many of our fundraising events throughout the year. And to Subaru for making vehicles where dogs can rule!
---
Subaru Loves to Care Supports Northshore Food Bank - Yvette R
During the COVID-19 pandemic, Northshore Food Bank has experienced record increases in households needing supplemental food assistance due to the "stay at home" order and/or temporary or permanent loss of employment. As an organization offering an essential service, we have been able to remain open to serve our regular Food Bank recipients and any household finding themselves in current need. Baldwin Subaru's support, especially during this critical time, allowed the Food Bank to purchase food items needed to be able to continue to serve and meet the increased need. We are grateful to Subaru and Baldwin Subaru for recognizing the need and helping their community.
---
Upward Community Services - Alfred Y
Since 1989, Upward Community Services has improved the lives of the working poor in St. Tammany and surrounding parishes. We do this by providing the opportunity and exposure needed to help break the cycle of poverty, crime, neglect and substance abuse. Baldwin Subaru's partnership with Upward Community Services has been important to us in more ways than one. Not only has the partnership been encouraging by showing somebody cares about what we are trying to accomplish in the community, but it also came at the perfect time – during the launch of our summer program for kids and teens. Our summer program helps ensure kids are fed and teenagers have job opportunities. We appreciate the fact that Baldwin Subaru is willing to take action in helping the community. Their community involvement with us has made a huge impact!
---
Northshore Food Bank Golf Tournament - Jamie A
The 17th Annual Northshore Food Bank Tournament was a wonderful success! We extend our sincere appreciation for Baldwin Subaru support, as net proceeds from the event directly support the hungry in our community. Baldwin Subaru's generous donation and participation will help struggling families who live and work on the Northshore by providing essential food items that allow them to put meals on their tables. The Golf Tournament is a premiere community event and the major fund raiser of our organizaton.
---
Subaru Home for the Holidays Pet Adoption 2018 - Kaitlyn S
The 2018 Subaru Share the Love Christmas & Adoption event - The Northshore Humane Society, formerly St. Tammany Humane Society, located in Covington, LA would like to thank all of the businesses and people who made our mega-adoption event a huge success! Baldwin Motors of Covington, Subaru of America, Inc. & the ASPCA awarded our rescue with a grant that allowed for fee-waived adoptions, which really helped our dogs and cats find their new homes for the holidays. We enjoyed Christmas music and pictures with Santa and food from Old School Eats. Over 20 dogs found their forever homes at the event, which was the perfect Christmas gift to all the staff and volunteers of the Northshore Humane Society. We were happy to share the space with the Greyhound Pets of America Louisiana & Mississippi, who work to find homes for retired Greyhound dogs. Thanks to Old School Eats, YAP Club, and PJs Coffee for helping us make the day even more special! With your help, we can continue saving homeless dogs and cats from hunger, sickness, and euthanasia by finding them forever homes!
---
Baldwin Subaru Loves to Care - Erica K
"The goodies donated through Baldwin Subaru and the Subaru Loves to Care Program were so well-received by patients. They couldn't get over how nice the blankets were! The art kits were also in high-demand and enjoyed by both adult patients and children of loved ones who were being treated. These gifts really made a difference for patients and were received with many smiles! Thank you Baldwin Motors for helping bring our patients some comfort while they are going through what can be a very stressful and challenging time." - Erica Kelt @marybirdperkins
---
Baldwin Subaru loves to Care - Crystal S
I wanted to take this opportunity to thank you again for your support of LLS by choosing us for the Subaru Loves to Care Campaign again this year. We appreciated your time to deliver blankets, care cards, art kits and bracelets as well as visit with group at St. Tammany Parish Mary Bird Perkins Cancer Treatment Center. Our meeting was short, yet impactful. Mr. Baldwin, your sincere words of encouragement and support of community resonates far beyond the Northshore. Hospital staff and blood cancer patients were truly thankful for Subaru's act of kindness nationwide and remain grateful to your Mr. Baldwin and to Baldwin Motors for your care and support of all those impacted by blood cancer in St. Tammany Parish, surrounding communities and beyond. Together, we can make someday today for all those impacted by blood cancer. Kindest regards, Crystal
---
Earth Day Partnership - Brittany R
Global Wildlife Center appreciates the support Baldwin Motors provided through our Earth Day partnership last year. In 2015 Global Wildlife Center initiated a five year tree planting project. Each year until the year 2019, Global Wildlife Foundation will purchase 1,200 trees to plant on our 900 acre preserve. One of our goals was met last year when we were able to replace the 1,000 trees lost on our property during Hurricane Katrina in 2005. In order to protect the trees from our animals, Global Wildlife has built multiple enclosures for our trees. This will provide a safe place for them to grow over the next ten years. As help to fund the project Global Wildlife has created an Adopt-A-Tree Program in which the general public and local businesses can participate in making a difference in the environment. Baldwin Motors participated in a partnership with Global Wildlife Center last year. For every Subaru vehicle purchased, Baldwin Motors adopted a tree of choice in the name of the buyer. The buyer was able to choose from a Poplar, Red Maple, Sycamore, or White Oak Tree. The adopter receives an Adopt-A-Tree t-shirt, an Adoption Certificate, and a fact sheet on their tree chosen. Last year Baldwin Motors adopted 22 trees. Our staff hand plants all of our trees and takes great pride in doing this. We cannot thank Baldwin Motors enough for their support and dedication to Global Wildlife Center.
---
Home For The Holidays Pet Adoption 2016 - Susan
2016 Subaru Share the Love Christmas & Adoption Event - St. Tammany Humane Society located in Covington, LA would like to express their gratitude to the businesses and people who made our 2016 Subaru Share the Love Christmas and Adoption Event such a success. Baldwin Motors of Covington, Subaru of America, Inc. & the ASPCA awarded our rescue for the third year in a row with a grant that allowed for fee-waived adoptions! Not only was the day full of Christmas music, pictures with Santa and children's activities, ten dogs went home to warm, loving families this holiday season. Maxium, Timbo, Lacee, Bailey, Faith, Frank, Keller, Sealy, Drowsy and Scamander were all given a second chance with a new family! Other rescues including St. Tammany Parish Department of Animal Services and Big Sky Ranch/CATNIP Foundation were also on-site with animals and eduction about their causes. Thank you again to everyone involved. We couldn't save lives without your support. Sweet Daddy's BBQ - Covington, Starbucks, YAP Club, Triple U 98.9 - WUUU FM, Adventure Pets - Mandeville LA
---
Baldwin Subaru Loves to Care - Sharon U
SUBARU AND THE LEUKEMIA & LYMPHOMA SOCIETY CELEBRATE GESTURES OF HOPE FOR SUBARU LOVE PROMISE LLS and Subaru Send Well Wishes and Warm Blankets to Cancer Patients in June, Subaru Loves to Care month - Covington, Louisiana (July 14, 2016) – Subaru of America and The Leukemia & Lymphoma Society (LLS) announced a collaboration to provide much needed support and "warmth" to patients fighting cancer and their families in communities across the country. During Subaru Loves to Care month this June, LLS and participating Subaru retailers across the country together will provide blankets and messages of hope to patients undergoing cancer treatment at local hospitals and treatment centers. Visitors to Subaru retailers will be given the chance to share personalized messages of hope to patients in their local communities, which will be delivered alongside blankets to provide comfort and warmth as they continue their fight against cancer. Those who write a message of hope will receive a Subaru and LLS awareness bracelet, to help spread awareness of LLS and Subaru of America's goal to provide hope and care, one gesture at a time.
---
Safe Harbor Donation - Kim K
Safe Harbor provides crisis intervention, emergency shelter, and basic needs to victims of domestic, family, and dating violence. Our program is small; however, last year we answered close to 3000 crisis calls and provided services to a total 567 victims (women, children and men). We provided safe shelter to 32 women and 40 children who were in immediate danger and rendered homeless because of abuse. All of our services are free and confidential, the average stay in the shelter is 6 weeks, during that time we provide all food, clothing, personal hygiene items, uncovered medical, dental, and prescription costs as well as transportation and other costs. The donation from Subaru will assist Safe Harbor in providing a safe place for victims of domestic abuse to stay. Subaru is helping Safe Harbor to save lives and end the cycle of domestic violence, which will make our homes and communities safer and healthier. This donation is truly life saving and will make a difference in many victims' lives and the future of their children! On behalf of the victims we serve, thank you for your generous support! Thanks so much! -Kim
---
Baldwin Subaru Shares Christmas Meals With Their Community - Joel P
"After all the meals were handed out for Christmas morning we discovered we had extras! We brought those extra turkey dinners to Amite, LA to assist not only the needy but those who were recently impacted by the tornado that ran through Amite the previous week. We had the assistance of the Amite Police department, the Amite Fire Department and New Life Ministries Church to get these meals to those most in need. With their help, we were able to deliver 40 complete meals, each meal feeding a family of five."
---
Baldwin Subaru Partners With The Youth Service Bureau of St Tammany - Holley Y
"The Youth Service Bureau of St Tammany is very honored that Baldwin Motors chose us as their local Hometown Charity organization for the 2014, Subaru "Share The Love" campaign. Baldwin Motors through their support of the Youth Service Bureau has been a positive asset in providing local community awareness of our agency and the valuable services we provide for at-risk youth and their families, in addition to any financial support raised for our programs. The collaboration between Baldwin Motors and the YSB enables our agency to be discovered by Individuals / Families through the publicity of the campaign, even if that family does not require services from our agency, they will however have the knowledge of our services to share with others in the community or to donate to our cause should they desire to do so. The Youth Service Bureau values its relationship with Baldwin Motors and looks forward to a promising campaign." Holley Young
---
Baldwin Subaru Supports Safe Harbor - Kim K
"Safe Harbor used the funds donated by Baldwin Motors through "Share the Love" event to provide direct services to victims of domestic violence who are rendered homeless because of domestic abuse. The funds allowed Safe Harbor to purchase needed medications, food, basic everyday necessities and to provide transportation for the women and children seeking a safe place to stay at Safe Harbor's emergency shelter. Baldwin Motors' support is crucial for nonprofits and their work in making our community a better place to live. Baldwin Motors is helping Safe Harbor to save lives and provide a safe place for victims to stay." Kimberly Kirby
---
Baldwin Subaru Supports St. Tammany Humane Society's Home for the Holidays Adoption Event - Dr. Michelle N
"Thank you, Baldwin Subaru! Your support of our Home for the Holidays Adoption Event allowed us to host the most successful adoption event in St. Tammany Humane Society's 62 year history. 31 of our adoptable animals found homes in time for the holidays during the event. In partnering with other area rescue groups, a total of 53 animals were adopted that day. We truly appreciate your support of the homeless animals in our area." Dr Michelle Newfield
---