There's now comparison when it comes to the
2021 Toyota Camry in Covington LA
and the 2021 Subaru Legacy. The Subaru legacy presents a new generation legacy with its visually appealing updates.
2021 Toyota Camry in Covington LA: Changes


Toyota makes minimal changes to the 2021 Toyota Camry in Covington LA. The Camry comes with a redesigned front end, new paint colors and wheel design. The cabin presents a new tablet style touchscreen measuring 7.0 or 9.0 inches. Select trim levels offer the hybrid powertrain and new leather upholstery. Toyota also upgraded its driver assist features. Some of this new technology is designed to better recognize cyclists and pedestrians. The large sedan offers a comfortable and spacious cargo area with the rear cargo seat that folds down.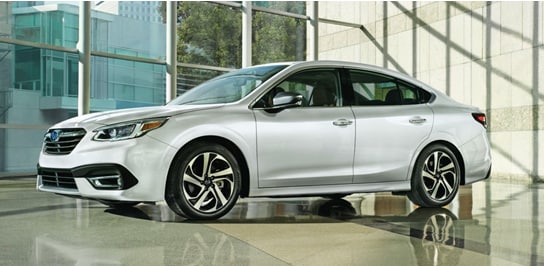 The 2021 Subaru Legacy delivers more upscale interior updates including a newly designed instrument panel with contrasting colors and updated air vents. Buyers also have the option of Nappa leather, an 11.6-inch infotainment touchscreen, and Wi-Fi. To reduce cabin noise the Legacy has new weather stripping and sound deadening glass for a quieter ride. Select trim levels offer 260 horsepower turbocharge 2.4-liter engine. 
A 2.5 liter flat four-cylinder engine with 182 horsepower comes standard on the 2021 Subaru Legacy. Subaru's continuously variable transmission and all-wheel drive remain standard on all trim levels as well. Drivers can now enjoy heated seats with three temperature settings that reach up to the shoulders to keep the driver and passenger warm on select trims. 
Drivers will also benefit from four USB ports, two in the front and two in the rear. It also comes with a split screen (one on top of the other) and displays two different sets of information at the same time. One will display the infotainment functions and the other will read out the climate control information, Apple CarPlay, and Android phone mirroring.
When comparing sedans buyers will notice the 2021 Toyota Camry in Covington LA and the 2021 Subaru Legacy are both well-known brands. However, Subaru is a leader when it comes to safe vehicles and delivers a plethora of safety features and desirable amenities. 
Baldwin Subaru presents a team eager to share our wide range of Subaru vehicles with you to assist you in finding the ideal Subaru for you. Our team is knowledgeable and ready to answer any questions that you may have or schedule a test drive of your favorite Legacy.Certified product specialists can also help you with ordering your personalized Subaru Legacy. Our finance specialists will work hard to find financing that fits your budget and they will keep you informed during the process. 
Baldwin Subaru's service technicians receive state of the art training using innovative equipment. This allows the service technicians to assess your Subaru and obtain an accurate diagnostic assessment. All services and repairs are completed with only genuine Subaru parts. We are a full-service dealer, call or go to our website to schedule your routine maintenance visit or bring your Subaru in for any concerns you may have.