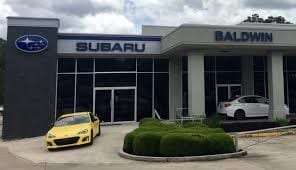 In
Preparing for COVID-19 near Baton Rouge LA
Baldwin Subaru are committed to the health, safety and the well-being of owners, employees, and our communities. Our goal is to keep people, as our top priority, and we will make any necessary adjustments to ensure every one's safety. 
Along with our retailers we are Preparing for COVID-19 near Baton Rouge LA we realize that we must serve as a positive example in our communities and help in any way, wherever, and however we can. We remain true to the Subaru Love Promise vision to show love and respect to all people. This promise is our guiding force as we traverse these unfamiliar times together. 
We understand that our services are essential in maintaining your Subaru vehicles across the nation and you can depend on us to accommodate what is within out control to continue to serve our Subaru family. 


Preparing for COVID-19 near Baton Rouge LA: CDC


Subaru of America is closely monitoring updates from the Centers for Disease Control and Prevention's (CDC). We look to the CDC for current guidelines and recommendations on the best practices we can implement to mitigate transmission of the virus. We vow to continue to keep our employees informed, maintain strict travel policies and cancel or postpone congregating. Our employees have been encouraged to work remotely and all Subaru of America employees will be paid for time away from work in the interest of the well-being of them and their families. 
Though we are unable to predict how the COVID-19 will progress, we can control our reaction. With that being said, we will make each decision focused on the safest option for our customers, employees, and communities.  
Subaru is offering special incentives for customers on 2020 Forester, Outback, Ascent, Impresa, and Legacy. The automaker will continue to provide new Subaru vehicles in the United States as the landscape continues to change; we will continue to whatever we can to serve our Subaru family.
In Preparing for COVID-19 near Baton Rouge LA Baldwin Subaru has implemented various modifications to continue serving your Subaru vehicles as well as ensure the health and safety of our employees and community. We are thrilled to announce that you can purchase your new Subaru online safely from the comfort of your home. You can schedule service with pickup and delivery. Our showroom is open, if you choose to visit, we will be ready to extend a warm welcome and provide you with the service and experience you would expect from a Baldwin dealership. We have utilized the highest standards to maintain the clean showroom certifying your health and safety.
Baldwin Subaru will continue to adhere to the guidelines ensuring the health and safety of all employees and customers. We remain committed to provide superb customer service by meeting your needs on your terms.