For those wanting to answer the question, the answer is nothing mysterious. Go to Subaru directly as the automaker wishes to reward loyalty. Like an oilfield worker plaster a hardhat with stickers, Subaru's badges of ownership show tenure, and speak volumes of the driver's personality. While a badge of ownership, they are worn as badges of honor. Owning a Subaru brings a sense of responsibility paired with excellence in automotive engineering.
Recognition in Numbers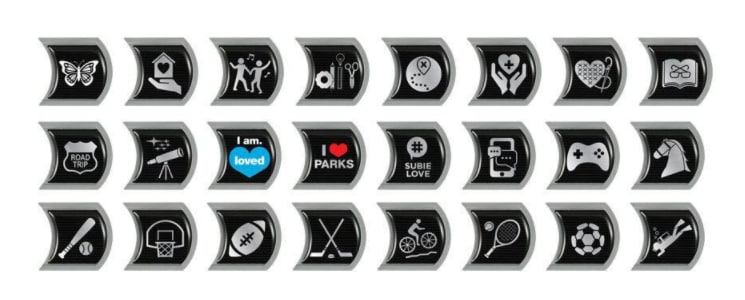 What is the Subaru Badges of Ownership and how do I get them near Covington, LA?
These badges are an opportunity for Subaru lovers to display their pride of ownership and the reasons for purchasing their Subarus of choice. Location is no major hurdle and all the information needed to procure them can be found on the auto manufacturer's website. The process starts with proudly accounting for each Subaru owned. Whether it is the Ascent or the BRZ, the model does not matter. Owners can take a count and confidently display their loyalty number. Starting at one, Subaru owners can max out with the ten-plus badge. With each comes a level of driving confidence and vehicle satisfaction unmatched by any other vehicle traveling the streets. 
What is the Subaru Badges of Ownership and How do I get them Near Covington, LA? Personality Flare
Subaru has always catered to numerous different personalities. This has long set Subaru apart from other carmakers. They genuinely appreciate their customers and the company's badge of ownership program further solidifies the notion. If additional proof is requested, a simple look at the lifestyle icons speaks volumes. For those who identify with sports, a plethora of tokens are available and range from martial arts to kayaking. Biking, camping, and just overall sports all find recognition in Subaru's badge of ownership program. 
Higher Calling
A variety of icons representing more important and worldly notions are reflected in the answer to the
What are the Subaru Badges of Ownership and how do I get them near Covington, LA
question. Breast cancer awareness and social inclusion find equality and representation among other causes like community and overall health and wellness. Among those represented in that higher calling class is a tip of the hat to love and family, as Subaru recognizes them as the cornerstones of everything good. 
Respecting the Age

For those owners holding onto Subarus who are getting long in the tooth, the auto giant offers special recognition in the badge of ownership program. The 100k-mile and above the club, along with the 200k-mile and above group, receive their own lifestyle badges displaying the true longevity of the relationship shared between Subaru and its owners. While many vehicle owners look to cut ties with a vehicle of excessive miles, Subaru celebrates the success. To determine which lifestyle icon best depicts your personality and relationship to Subaru, contact Baldwin Subaru at 1730 N Hwy 190 Covington, LA 70433.