Mardi Gras near New Orleans
literally means "Fat Tuesday" in French. It is celebrated on the Tuesday before Lent which begins 46 days of fasting ending Easter. "Fat Tuesday" is the day to eat all those comfort foods you love and enjoy before fasting for Lent. Sadly, Mardi Gras has been cancelled this year. However, in typical New Orleans manner, alternate festivities will be happening in place of Mardi Gras around New Orleans and the Northshore.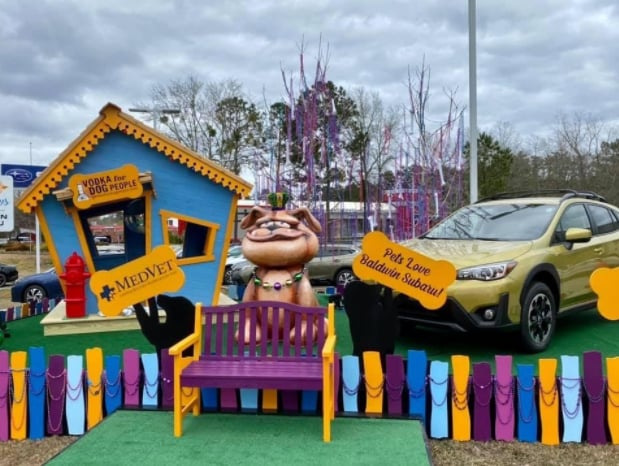 Mardi Gras near New Orleans: House Floats
This year in New Orleans we will do Mardi Gras a little different since parades have been cancelled and it is discouraged to gather in large groups. One idea that is spreading throughout the New Orleans area and beyond is Carnival Houses. Homeowners all across the state are decorating their homes to look like floats. To make it even more like a real parade, homeowners are also throwing beads and other carnival throws to people passing on foot or by car. 
Alternative Celebrations
Other options include scavenger hunts to offer throws that would have been caught during the parades. In place of
Mardi Gras near New Orleans
another option is King Cake tasting. King Cake is a cinnamon or filled braided oval shaped pastry, decorated with purple, green, and gold sprinkles with a plastic baby baked inside. The tradition is whoever gets the baby is responsible for buying the next King Cake. Most of the local bakeries and grocery stores carry King Cakes, so try several by having taste tests to see which ends up being your family's favorite. 
Mardi Gras Museum
Drive over to Slidell for another fun family Mardi Gras near New Orleans activity at the Mardi Gras Museum, which hosts 800 plus pieces of Mardi Gras memorabilia from years past. Some items include dresses, costumes, scepters, goblets, throws and pictures of kings and queens from the past. 
Mardi Paws
Since Baldwin Subaru loves animals, we must add the Krewe of Mardi Paws, encouraging you to decorate the doghouse and Krewe du Pooch's Fun Walk/Run and Costume Contest with the theme from Dr. Seuss's "Go Dog Go.
This year, Baldwin Subaru participated in a virtual parade of businesses as the flagship float with COVID-friendly pop-up events throughout the month of February. 
Working with Baldwin Subaru
At Baldwin Subaru, our showroom presents the most current Subaru models. Each Subaru is jam packed with the most desirable safety features and amenities. We will exceed your car buying expectations from selecting the perfect Subaru for you. We will work with you to trade in your vehicle and guide you through getting pre-approved. Our superior customer service keeps our customers coming back. 
We are a trusted and respected Subaru dealership in the New Orleans area. Meet with our product specialists to explore our vast inventory of Subaru's. Our team holds extensive knowledge of the Subaru brand and they are eager to assist as well as answering any questions you may have. Our department is committed to finding an auto loan that works within your budget. Come by Baldwin Subaru and meet our team and browse our showroom located at, 1730 N Hwy 190 Covington, LA 70433 and allow our incredible staff to assist you with all of your Subaru needs.