For those looking to spice up the holiday season with more than eggnog, they can take the plunge and
find quality rental vehicles this holiday season at Baldwin Subaru
. Long-distance holiday travel might seem like a burden in your current mode of transportation loaded down with passengers and presents. Step up to something new and more prominent in the form of a Baldwin rental. If life has become mundane and that current vehicle seems stagnant, treat yourself to a day of luxury when visiting the family. While pampering yourself, you might even invoke Christmas envy amongst the family.
Doubling Down

For the driver that wants to
find quality rental vehicles this holiday season at Baldwin Subaru
, a stylish upgrade might be the motivation. Taking advantage of the situation, however, can provide additional rewards. That current vehicle can be left for routine maintenance. Instead of being without transportation, the work can take place while the driver not only has a car to drive but a modern and superior Baldwin-supplied auto at that. With the degree of professionalism exhibited in the vehicles they sell and those they serve, it is evident that a Baldwin rental car surpasses the major rental companies in quality and dependability. So drivers can double down and have that service they have been avoiding rendered and treat themselves to a desirable rental option in the process.
Find Quality Rental Vehicles this Holiday Season at Baldwin Subaru: Test Drive


For those searching for the perfect Subaru model to meet their everyday dreams, needs, and personalities, a quick drive up and down the highway might not provide the time needed to enact a decision. Instead, rent a Subaru for as much time as required. The perfect time to rent that Subaru forester is over the holidays. With an abundance of cargo space and passenger legroom, traveling to the grandparents' house might prove to be the most enjoyable event of the holiday season.


Special Provisions


Drivers who find quality rental vehicles this holiday season at Baldwin Subaru can rest assured knowing they will be treated honestly and with enhanced care. While the major rental car agencies release a barrage of fees and extras, Baldwin enables a unique and straightforward process. Renters do not have to frantically search for a service station on the way to returning the rental. Baldwin's concierge will top off the tank if the fuel level is lower than when the vehicle exited the lot. While the fuel charge will be applied to the renter's bill, reassurance is gathered knowing that the fee will not be inflated. While smoking is not permitted in Baldwin rental vehicles, owners can display smiles knowing that pets receive the opposite consideration. Now drivers can make room with the holiday gifts and bring the family pet to Christmas dinner.


Requirements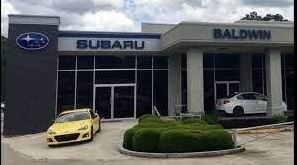 Baldwin Subaru prides itself on offering a hassle-free alternative to the larger vehicle rental chains. To capitalize on a Subaru rental, drivers must possess a valid driver's license and be at least 21 years of age. Accompanying the permit, proof of insurance must be provided. Baldwin makes this ever so simple by even accepting electronic copies of insurance cards. Pull out the smartphone and get the job done. Subaru renters can expect their vehicle selections to be outfitted with additional features relevant to the renting location. So if one was to rent a Forester in Colorado, ski racks very well might be found decorating the roof. If the plan is to rent a Subaru SUV for a holiday snow skiing trip, the ski racks might be deemed a special request. Chances are Louisiana will not provide the snow or terrain needed for a powder slaying experience. To learn more about renting a Subaru, contact Baldwin Subaru at 1730 N Hwy 190 Covington, LA 70433. Drive Baldwin, rent a Subaru online here: https://www.baldwinsubaru.com/just-drive-subaru-rental.htm