With so many distractions to drivers today, more and more auto manufacturers are striving to make their vehicles safer than ever before.
Toyota Safety Sense near Gulfport MS
helps protect you and your passengers, but is it as good as Subaru Eyesight?
Subaru has led the way in vehicle safety since its beginning, and launched the Eyesight® suite of driver assist safety technology for the 2013 model year. Only in recent years have other automakers like Toyota in the 2016 model year, started to add safety features comparable to Subaru.


Both companies use cameras, advanced technology, and radar features that work together to keep everyone safer. While protecting you and your occupants, these systems also protect pedestrians and other vehicles that are sharing the road with you.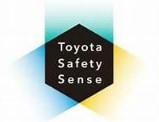 Toyota Safety Sense
Toyota Safety Sense near Gulfport MS offers a collection of features that comes standard on many new models, on select trims. Here's a rundown of each component:


Pre-Collision System with Pedestrian Detection -Looks ahead for obstacles on the road, which helps reduce the possibility of crashing into a vehicle or pedestrian in front of you. Some complaints from drivers have been noted about the intuitiveness of this function.


Lane Departure Alert - By use of the camera, this feature alerts you when you've strayed from your intended lane. 


Dynamic Radar Cruise Control (DRCC) - Help to modify your speed to maintain a preset distance from the vehicle ahead of you while cruise control is activated. 


Lane Tracing Assist - A new feature that relies on the optional Full Speed DRCC being enabled and visible lane markers, to help keep you centered in your lane. 


Automatic High Beams - The windshield camera detects head- and taillights of vehicles in front, and switches between brights and low beams when necessary. 
Road Sign Assist - This is a new feature with Toyota Safety Sense near Gulfport MS that uses the navigation system (when data is available) and camera to recognize certain road signs. These signs are then displayed on the MID (multi information display) or Head-Up Display.
Subaru EyeSight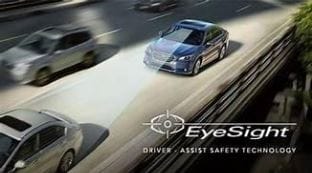 Since 2013 Subaru has been keeping drivers safe with their EyeSight Driver Assist Technology. The Insurance Institute for Highway Safety (IIHS) conducted a study which found EyeSight  helped reduce pedestrian-related collisions by up to 35%, Its also proven to reduce rear-end crashes with injury by up to 85%. Subaru models equipped with EyeSight consistently receive the highest possible rating for front collision prevention from the IIHS.
Subaru EyeSight cameras scan the travel path for possible hazards as you're driving. Each of these components work together to ensure safety:



Adaptive Cruise Control - You choose the distance you want to maintain from the lead vehicle, or vehicle in front of you, and adjusts your vehicle's speed to maintain your preset distance from the lead vehicle. 


Lane Keep Assist and Sway Warning - Alerts you if the system senses you have drifted from your intended lane.


Pre-Collision Braking - This feature helps lessen or completely avoid front crashes by looking ahead for obstacles. If an obstacle is detected, the system will give an audible warning and apply full braking power when necessary to avoid collisions. 


Pre-Collision Throttle Management - The system constantly monitors in front of your vehicle. When it sees another vehicle or obstacle that you could possibly strike, it reduces the torque of the engine, so the impact force is lessened.


Advanced adaptive cruise control- Does the same as adaptive cruise control, but also helps you remain centered in your lane.
Subaru EyeSight comes standard on all models of the 2021 Forester, Legacy, Outback, and Ascent. It is available on all models of the 2021 Impreza and Crosstrek, and even two models of the WRX.



Toyota Safety Sense near Gulfport MS vs Subaru EyeSight: A Clear Winner


As you can see, it's obvious both manufacturers include features that will benefit drivers in reducing crash rates. It's also evident that only Subaru provides Pre-Collision Throttle Management, which is an excellent feature to help avoid impacts with other vehicles or any object on the road in front of you. Did you also notice Subaru's use of two cameras, not just one like Toyota?


While Toyota Safety Sense near Gulfport MS is a good choice, Subaru has a more aggressive and intuitive safety suite. Combined with Subaru's standard all-wheel drive on all models (except the BRZ) and extra ground clearance on most, Subaru still leads the way in safety innovations. Stop by Baldwin Subaru for a test drive today and learn more about which model is right for you and your family.