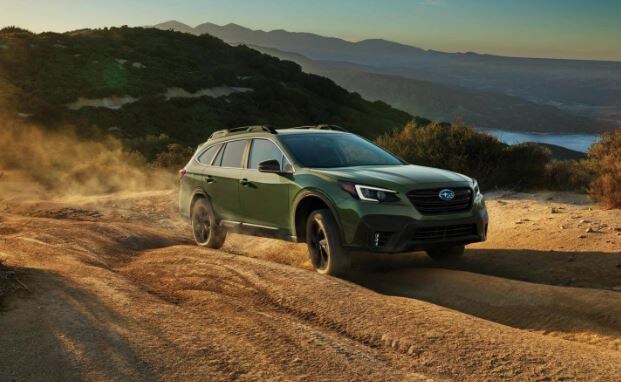 The all-new 2020 Subaru Outback near Mobile AL is making noise as it prepares for its comeback. This new car is considered a redo from the ground up. The 2020 version is a complete redesign with several improvements, specifically when it comes to its powertrain, torque, fuel economy, as well as with the design. In addition, it is now available with two new engine choices: the turbocharged 2.4-liter engine and the 2.5-liter four-cylinder boxer engine.
Superior Features
Subaru designed the 2020 Outback with improved safety features. It offers a forward-collision warning and automatic braking system. The Outback also has a DriverFocus system, a special feature that makes use of an infrared monitor which senses whether the driver is sleepy or preoccupied. It can even scan your face when you get in the vehicle and automatically set the mirrors and seats to your unique personal preferences. You can also expect the 2020 Subaru Outback near Mobile AL to have Subaru's Global Platform.
When driven off-road, the 2020 Subaru Outback near Mobile AL comes with an all-wheel-drive system and 8.7 inches ground clearance that can deal outstandingly with dirt and gravel. The X-Mode system also offers hill descent controls and traction controls that are especially helpful when driving on muddy and snowy terrains.
Incredible Interior
The Outback offers stunning interiors paired with amazingly comfortable seats. The interior space is well thought out with spacious passenger and cargo areas which displays practicality and comfort.
The 2020 Subaru Outback near Mobile AL will be available in six trim levels: Base, Limited, Premium, Onyx Edition XT, Touring, Touring XT, and Limited XT. The Touring, Limited, base and Premium models are available with a 2.5-liter four-cylinder engine that can deliver 182 horsepower. The XT models, on the other hand, are available with a turbocharged 2.4-liter cylinder engine to produce 260 horsepower.
The base model for 2020 Subaru Outback near Mobile AL is available with standard features such as LED headlights, a 7-inch touchscreen infotainment system, key-less entry, a rearview camera, Bluetooth audio connectivity, Android Auto connectivity, and Apple CarPlay. The Premium model comes with a leather-wrapped steering wheel, climate control, adjustable driver seat, 11.6 touchscreen, and heated front seats. The Limited trim is available with a power liftgate and blind-spot monitoring, driver's seat memory, rear air vents, automatic braking, and Harman Kardon audio. The Limited XT and Touring XT have features similar to the Limited and the Touring trims although they come equipped with a turbocharged engine. The Onyx Edition XT comes with the same features as the Premium trim but with a turbocharged engine plus Subaru's X Mode, front view monitor, hill descent, better exterior cladding, and a heated rear seats.
Regardless of which one you choose, all these trims will give you a good ride with a touch of Subaru's sophistication. Contact us to pre-order your 2020 Outback.