It seems like no matter what kind of line they've created, Subaru's designers always keep at least a few tricks hidden up their sleeve. This year they've redesigned a standby favorite: the Subaru Impreza compact sedan. The redesign has been a few years coming, as the last time their line of compact sedans and hatchbacks received an update was 2012. Anyone driving a 2017 Subaru Impreza near Biloxi MS will find this redesign has left the Impreza with a sleeker new style, a more luxurious interior, and a wide variety of new features.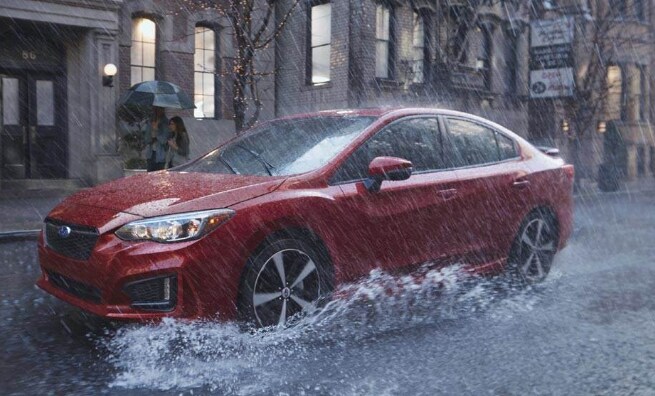 Improved Driveability
No one was complaining about driving previous iterations of the Impreza. After all, they've always been practical, dependable, and fuel-efficient family cars. The design team for 2017's new models has gone above and beyond the call to rebuild the Impreza from its underpinnings on up anyway though, making it more agile and fun to drive. The new Impreza is about 1.5 inches wider and longer and rides about half an inch lower than its predecessors. It features a more aerodynamic and sculpted body design but keeps its trademark hexagonal grille for old time's sake.
As far as how the new Impreza feels from behind the wheel, drivers have so far reported nothing but high levels of satisfaction. Its brakes are responsive and its steering is almost effortless, even in base trim levels. It handles turns well, corners flat and, like all Subarus, the newest generation of compact sedans comes with standard all-wheel drive on every model.
A Comfortable Ride
Drivers of Subaru Imprezas near Biloxi and their passengers alike appreciate how quiet and comfortable these vehicles are. Road noise is minimal, particularly on highways, but the engine does let out a nice, satisfying rumble when moving up to higher speeds. The extra space added this year allows up to four passengers to ride in reasonable comfort, too, which places it at an advantage over its noticeably more cramped competitors. Those looking to go the extra mile might appreciate the seat heaters available on most models as well.
Practical and Efficient
Like most Biloxi Subaru dealerships, we find customers expressing interest in Imprezas are looking for a practical way to pick the kids up from school, run errands, and get around town without racking up exorbitant fuel costs. The fact they'll look a bit more stylish while doing so is usually seen as icing on the cake. Family drivers often prefer the five-door hatchback model to the four-door sedan, which is understandable. Its extra-wide rear door allows even large and unwieldy items to be transported with ease. Plus, it offers 55.3 cubic feet of space with the seats down, retaining 20.8 of them even when the back seats are in use. What's not to love about that?
Subaru's Characteristic Top Safety Scores
Part of the reason so many families depend on Subarus to get everybody where they need to go on time is that they have a well-deserved reputation for superior safety. The 2017 Impreza has already been awarded the IIHS Top Safety Pick+ designation and stands out as the only small car to receive a clean sheet from this notoriously picky agency. Not only do all models and trim levels come standard with seven airbags and a rearview camera, they also include superior child seat anchors and available advanced safety features.
Subaru's EyeSight active safety and driver assistance system has already garnered plenty of attention in the auto world. Its adaptive cruise control, lane departure warnings, active lane control, and automatic emergency braking ensure that even less-than-perfect drivers will be safe behind the wheel. Interestingly enough, it also helps drivers keep track of things like individual tire pressure.
In addition to the EyeSight system, Subaru's Starlink interactive safety system offers automatic collision notifications, monthly diagnostic tests and alerts, an emergency assistance button, and plenty of other useful features. Parents of teen drivers, in particular, have been heading to Biloxi Subaru Dealerships en masse with questions about, and praise for, the Starlink system. Since every Subaru with an included Starlink package comes with a one-year complimentary subscription, more drivers are being won over every day.
All About Options
Any 2017 Subaru Impreza near Biloxi MS will be one of two body styles: a four-door sedan or a five-door hatchback. These come in four trim levels, which range from the basic 2.0i to the mid-level Premium and Sport, and on up through the high-end Limited trim. Each of these trim models comes with a wide variety of available options, although even the base model is impressive in its inclusiveness. It even comes standard with Android Auto and AppleCarPlay plus an impressive infotainment system.
Take One For a Test Drive
Still not won over? Head over to our dealership today to learn more. Our friendly and professional sales associates are never pushy. As one of the most popular Subaru dealers near Biloxi MS, we know the Impreza speaks for itself. All it usually takes is a few minutes behind the wheel to convince drivers to make a down payment and drive away happy.