If you're looking for a 2018 Subaru Outback Near Baton Rouge, you're in good company. Almost 183,000 Outbacks were sold last year alone, setting yet another record for Subaru and making this the Japanese automaker's most popular vehicle. On last count, it also held second place among Consumer Reports' most researched models. The new Outback's release date is close at hand, so keep an eye out for the latest arrivals here at Baldwin Subaru.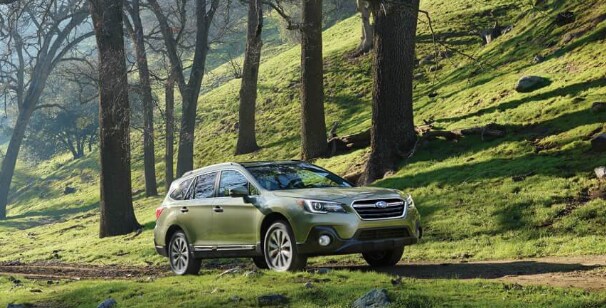 What's to Come?
We're seeing a few design alterations with the 2018 Subaru Outback along with updated drive train components. Subaru's latest technology is definitely incorporated into the coming models, and the manufacturer's legendary safety features haven't been left out of the mix. You can expect a number of exciting new details all packaged in a revamped version of the Outback's classic modified station wagon style.
Under the Hood
In the base model, you'll get a 2.5-liter, flat-four engine standard with 174 pound-feet of torque, or you could opt for the 3.6-liter, flat-six with 256 horsepower if you upgrade to the Limited or Touring model. Several trim levels are available, including:
2.5i Base
2.5i Premium
2.5i Limited
2.5i Touring
3.6R Limited
3.6R Touring
With any choice, you'll be ushered along by Subaru's version of the automatic, continuously variable transmission designed to help smooth out the potentially rough ride of a full-time AWD. If you sometimes like a little more control than an automatic transmission is willing to give, you're sure to love the manual mode with paddle shifters new to this year's Outback. Improvements to the braking and suspension have also been included to help round out the driving experience.
Safety Features
Subaru has long been known for safety, and those of you in the market for a 2018 Subaru Outback Near Baton Rouge won't be disappointed by the latest measures the automaker has taken to make sure you're covered. Individual tire pressure monitoring and more user-friendly child seat latches get the ball rolling, but it only gets more exciting from there.
While rear-view cameras are standard equipment, the company's exclusive EyeSight suite available on higher trim levels includes steering-responsive headlights and rear-view camera, meaning they'll veer to the left and right as you turn the wheel to give you greater insight into what's ahead of and behind you. High-beam assist is included as well, which intuitively dims the headlights in the presence of oncoming traffic. Automatic emergency braking, collision and lane departure warnings, lane-keeping and hill descent assist, rear cross-traffic alert, and a host of other features have also been added.
On the Inside
With the new Subaru Outback Near Baton Rouge, you'll find information and entertainment are readily available in the form of a standard 6.5-inch screen with Apple and Android compatibility, USB and aux inputs, and Bluetooth. Better-equipped trim levels feature a larger touchscreen and TomTom Navigation with real-time updates to name a few upgrades. Voice recognition has also been incorporated into the infotainment system, yet another first for the upcoming model.
Small interior modifications make for a more luxurious look and feel with plenty of leftover legroom and cargo space. Thanks to thicker liners in the wheel wells, insulated front glass, and more aerodynamic mirrors, the interior is also quieter than that of predecessors.
On the Outside
Only subtle changes have been made to the Outback's exterior. Redesigned headlights, grille, and front bumper give it a bit of a more assertive appearance while its 8.7-inch ground clearance helps maintain the "utility" portion of its functionality. The roof rack has also been given a makeover to add more versatility than previous models, and improved door sills provide less-strenuous loading.
Other Points
Safety and fuel efficiency ratings haven't yet been released for the latest Subaru Outback, but they're set to be announced soon. All things considered, officials expect fuel mileage to be similar to that of the 2017 model at 28 combined mpg for the 2.5-liter and 22 for the 3.6-liter. As you might imagine, authorities are already forecasting high marks in the safety department.
Bottom Line
Though the Outback got its start as a sport utility wagon, it's now a CUV in a class of its own. Clearance and interior space rivaling larger utility vehicles, comfort to spare, and plenty of technology to make the ride smooth, safe, and fun guarantee it's on its way to following in the footsteps of preceding models. With new features in place to eliminate road noise, you'll be able to enjoy all the potential entertainment and guidance options without interruption.
Baldwin Subaru is your source for a 2018 Subaru Outback Near Baton Rouge. This year's models will be here soon, so visit our website for updates or call us at (888) 486-3576 to learn more, and be sure stop by our showroom to see the new Outback in person and take a test drive.