Until withdrawing in 2008, Subaru was a real force to be reckoned with on the World Rally Championship circuit. Subaru might no longer field a rally racing team, but that performance-oriented heritage lives on in the 2017 Subaru WRX.
Both the base WRX and the amped-up WRX STI build on the underlying Impreza platform in ways that make them two of the most exciting cars we've ever driven and some of the most sought-after of all at Hammond LA Subaru dealers. These are not necessarily machines meant for the faint of heart, but they prove that performance remains something at which Subaru truly excels. At the same time, they are also impressively well rounded.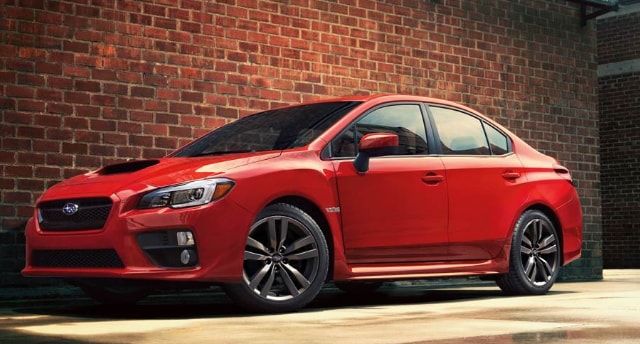 Power, Torque, and Performance
Up until the third generation of the car, Subaru used to market the WRX as a performance-oriented trim of the Impreza. Upon adding a turbo to the WRX version of the car for the first time in 2007, the company dropped the "Impreza" designation for the North American market. Even so, today's WRX is very much a performance-oriented take on that proven, popular platform, with the current model year stemming from the highly successful 2016 Impreza.
As a means of feeding the now-standard turbocharged Subaru Boxer® engine, both the WRX and the WRX STI employ direct fuel injection. The two-liter power plant in the WRX puts out 268 horsepower, officially, with 258 pound-feet of torque available to put the car in motion. From 25 percent more displacement, the WRX STI manages 305 horsepower along with torque that peaks at 290 pound-feet.
Depending on trim level, buyers can also choose between a six-speed manual transmission and Subaru's Sport Lineartronic® option. The latter allows drivers to switch between a fully automatic mode and paddle-operated manual shifting across six or eight gears.
All-Wheel Drive Excellence
Those figures alone would make for a couple of exciting sedans. Naturally enough, both major varieties of the WRX also include Subaru's renowned symmetrical all-wheel drive, a feature that helps put the power down and preserve control under aggressive driving and difficult conditions.
All members of the WRX family incorporate Subaru's exclusive Active Torque Vectoring system as well. This sophisticated feature improves cornering through the application of a small, precise amount of braking to the inside front wheel. As a result, all four tires remain better planted through each curve, improving cornering performance automatically.
The 2017 WRX STI goes even further in terms of adjusting power delivery to match current conditions. The STI-exclusive Driver Controlled Center Differential adds an entirely new dimension to Subaru's industry-leading all-wheel drive technology. Drivers can switch as they wish between an intelligent automatic mode and taking full control over the lockup level of the center differential. Where even the base WRX feels at home anywhere from twisty tarmac to gravelly backcountry roads, the STI can be tuned to even more precisely account for varying road conditions.
Not Your Average Impreza
The 2016 Impreza that the 2017 WRX and WRX STI are based on rightly impressed reviewers and buyers with their refinement and polish. The various versions of the WRX certainly preserve that character but in a more aggressive, exciting form.
For one, every 2017 WRX includes a significantly stiffer suspension that helps improve cornering and grip under acceleration. That also makes for a more active, engaging ride that gives the driver a better feel for the car's situation and limits at all times.
As might be expected, the WRX STI ups the ante, with a competition-inspired suspension virtually eliminating body roll and bottoming out while features like aluminum lower control arms reduce weight. The 2017 WRX STI is as uncompromising a rally car as any manufacturer has turned out for a long time, and the suspension reflects this.
That focus on performance also means that all versions of the WRX shed weight by cutting back on soundproofing and other frills. Once again, this makes for a more visceral drive as well as one that can help shave time off the race results of owners who are so inclined.
The Right Cars for the Right Drivers
All of this is to say that no edition of the 2017 WRX is meant to be a mere grocery-getter and nothing more. Buyers looking for a 2017 Subaru WRX near Hammond LA are likely to have a good idea what they want, and the WRX certainly delivers all up and down the line. That has helped the car earn high owner satisfaction ratings from Consumer Reports and others, assessments that agree with our own take on these exciting vehicles.
A big part of the reason for that, of course, is that all this impressive performance comes courtesy of a company that excels at many other things. From reliability and quality-of-life features like heated seats to safety-enhancing options like Subaru's exclusive EyeSight® Driver Assist, these are uncompromising performance machines that deliver a whole lot more.
With these being some of the most talked-about cars of all at Subaru Dealers Near Hammond LA today, stop by the dealership or give us a call to find out about the Subaru WRX and WRX STI.