Visit local Subaru Dealerships near Baton Rouge and it is easy to see why people are falling in love with the 2017 Subaru Crosstrek. From the spacious interior and cargo area to the fuel efficiency, there is something for everyone in this vehicle. It features standard all-wheel drive, higher ground clearance, and a souped-up suspension. For those who love to have more control over their car, this model even comes with the option of a manual transmission. It is one vehicle every driver should be sure to check out in their quest for a new ride.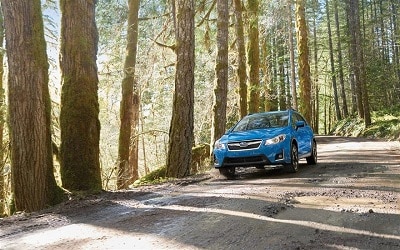 Trim Levels
The 2017 Subaru Crosstrek near Baton Rouge comes in four trim levels, and all come with a 2.0-liter four-cylinder engine that produces 148 horsepower and 145 pound-feet of torque. The 2.0i is the entry level model, and it comes with the five-speed manual transmission, foglights, Bluetooth connectivity, a rearview camera, and much more. Upgrade to the 2.0i Premium, and additional features will be included, such as heated front seats and a six-speaker audio system. Options for this trim level include a sunroof, Starlink connected services, and dual USB ports.
Drivers who find they want more often opt for the 2.0i Platinum Special Edition. Our Subaru dealers near Baton Rouge love to share the keyless ignition and entry, the sunroof, and special styling details. These are only a few of the many features found in this trim level, and there are numerous others. For those drivers looking for the top-of-the-line vehicle, the 2.0i Limited is the model to buy. It comes with automatic headlights, leather upholstery, and blind-spot monitoring with rear cross-traffic alert to enhance driver and passenger safety. Drivers may choose other options, including a navigation system and auto-dimming rearview mirror, depending on the trim level desired.
The Drive
Obviously, a vehicle that isn't fun to drive isn't going to get as much use as one that offers excitement for the individual behind the wheel. Although many SUVs offer a less than ideal drive, this isn't the case with the Crosstrek. In fact, many say they feel as if they are driving Subaru's Impreza, a compact car. The Crosstrek improves on the Impreza's ride, however, as its higher ground clearance ensures it can deal with off-road conditions with ease. The electrically assisted steering is responsive and makes it a pleasure to drive
Technology
The audio display is large and easy on the eyes, and drivers can opt for a navigation system if desired. The car comes equipped with one or two USB ports and one auxiliary input. Furthermore, drivers choose those aids of most importance to them, such as the lane departure warning system used in conjunction with EyeSight. The vehicle also comes with voice controls for the climate control system, phone features, and radio stations.
EyeSight
One thing that draws many drivers to dealerships to see the 2017 Subaru Crosstrek near Baton Rouge is EyeSight. This safety feature makes use of two cameras to examine the road and detect hazards. This includes items ahead of the vehicle, such as other cars. The EyeSight safety system is used for the lane-departure warning, collision warning and mitigation, and the adaptive cruise control features. Safety continues to be a top priority for many drivers when they go to purchase a new vehicle, and this system gives them the confidence they will be protected every time they take a ride in this machine.
Comfort
Drivers and passengers alike want to be comfortable when they are in a car, especially for extended periods of time. With the Crosstrek, they will be. The ride is smooth, and the seats are comfortable. The driver will find it easy to adjust the climate of the interior, and the airflow is more than adequate. For those who want automatic climate control, the Limited trim will need to be selected. There is more than enough head-and legroom for all who ride in the car also. Getting in and out of this model isn't difficult, and drivers will find it easy to set the steering wheel and driver seat to meet their unique needs.
For anyone in the market for a fuel-efficient SUV that falls into the subcompact-crossover category, our Subaru Crosstrek dealers are ready to share this vehicle. Not only does it have everything mentioned above, it is easy to maneuver and park and it's light on the wallet. The ground clearance makes it suitable for both on and off-road trips, and it comes packed with safety features drivers are sure to appreciate. We will be happy to let licensed drivers take it for a test drive today, and you'll understand its popularity within minutes of getting behind the wheel. It has so much to love that it will be the perfect vehicle for almost anyone.