Subaru Loves to Help near New Orleans LA
is a part of Subaru's Love Promise - a dedication to our customers and our community. Partnering with local organizations in St. Tammany parish and surrounding communities is one way we support education, health, community, the environment, and animals.
Baldwin Subaru is dedicated to the Subaru Love Promise. We show this dedication, in part, through our participation in Subaru Loves to Help near New Orleans LA. During our last few Subaru Love Promise events, we partnered with the Covington Food Bank, Covington Rotary Club, Feeding the Needy, Safe Harbor, and United Way.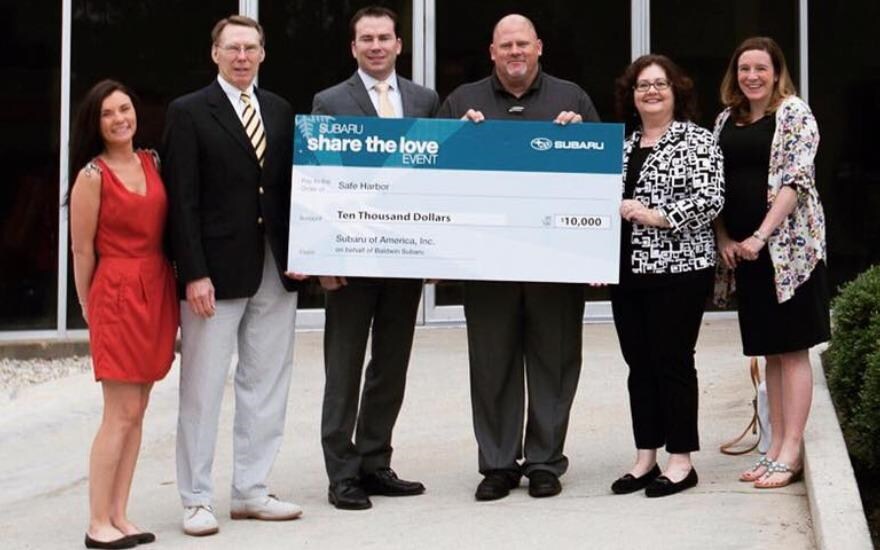 Subaru Loves to Help near New Orleans LA: Partnerships
Baldwin Subaru Partnered with Northshore Food Bank for the 17th Annual Golf Tournament to directly support the hungry in our community. We also participated in Subaru Loves to Help near New Orleans LA with a donation that helps struggling families on the Northshore by providing essential food items to put food on their tables.
 
We partnered with Safe Harbor to provide a safe place for victims of domestic abuse. Safe Harbor provides crisis intervention, emergency shelter, and basic needs to victims of domestic, family, and dating violence in hopes of ending the cycle of domestic violence for men, women, and children. Baldwin Subaru's donation to Safe Harbor also provided direct services to victims of domestic violence who would be homeless due to these types of abuse. The donation allowed Safe Harbor to purchase medication, food, basic necessities and transportation for women and children to stay at Safe Harbor's emergency shelter. 

For over thirty years Upward Community Services has worked to help improve the lives of the hardworking poor in St. Tammany parish and nearby parishes. We help to break the cycle of poverty, crime, neglect, and substance abuse by providing the opportunity and support our community partners need. It also helped the summer program ensuring kids are fed and teenagers have job opportunities. These partnerships have shown local organizations and the people they help that somebody cares about what they are trying to accomplish in our community. 
The Youth Service Bureau of St. Tammany partnered with Baldwin Subaru to provide local community awareness and services for at-risk youth and their families as well as financial support to those families. 
Providing support by partnering with The Leukemia & Lymphoma Society (LLS) to send warm blankets and messages of hope to cancer patients as they undergo cancer treatment at local hospitals and treatment centers.  
Our Baldwin Subaru team is dedicated to the Subaru Love Promise. We've been recognized nationally for our dedication to our customers, our community, and the Subaru Love Promise. We're honored to have received the 2020 Subaru Love Promise Customer and Community Commitment Award. Stop by Baldwin Subaru and experience how committed we are to our customers, browse our extensive inventory of vehicles and schedule a test drive. Our amazing team is eager to assist you with any questions you may have, financing options, and scheduling service/routine maintenance appointments.