If you've ever seen a Subaru commercial you've likely seen the Barkleys, or the
Subaru dogs in Covington LA
- those adorable canine companions advertising Subaru vehicles while putting a smile on your face. 
The Barkleys are a family of three Golden Retrievers and one Yellow Labrador Retriever. In the commercials they represent common driving experiences to which many drivers can relate.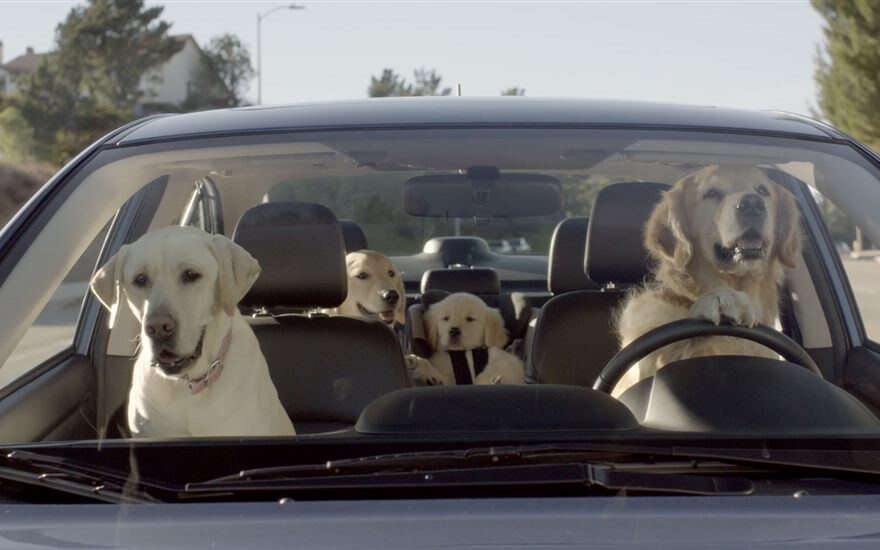 The Barkley sitting behind the steering wheel of his Subaru is Auggie. Doggy Dad Auggie is a purebred Golden Retriever who spends his time on a farm in Canada with ten adopted siblings. He's often spotted carrying around one of his beloved stuffed animals. Auggie presents an impressive resume and is a seasoned canine star. Auggie was five years old when the commercials were made.
The Barkley Mom sitting in the Subaru is Stevie. She's a purebred Yellow Labrador Retriever and was rescued from a Pasadena California animal shelter. This was Stevie's first acting role, for which she trained six months before filming. She lives on the same farm in Canada with Auggie. She loves curling up in her bed or playing ball with her humans. Stevie hasn't met a tennis ball yet that she didn't like! She was four years old when the commercials were filmed.
The older sister sitting in the back seat of the Subaru is Sadie. She is a purebred Golden Retriever who lives with her humans in Moorpark, California. This was her first big break into acting. She had the opportunity to learn socializing skills as she eagerly gave out puppy kisses to everyone. Sadie was six months old during the shooting of the Subaru commercials.
Sebastian is the purebred Golden Retriever baby of the Barkley family. Sitting in his puppy car seat in the Subaru was his debut performance. Sebastian lives with the same human family as Sadie. He enjoys riding in his puppy car seat, is energetic and learns quickly. He was 12 weeks old when the commercials were shot.
The Subaru dogs in Covington LA are trained by professional animal trainers. The Subaru commercials capture your attention with the undeniably adorable canines. They also want to bring awareness to pet safety in cars. Subaru is an advocate for pet safety in vehicles, partnering with the Center for Pet Safety. Their focus is to find the safest way for humans to travel with their canine companions. Current restraints on the market when tested do not protect your four-legged children. During the Subaru Share the Love Event Subaru donates to the ASPCA and helps with pet rescue and adoption. 
Subaru Dogs in Covington LA Make the Perfect Family


In Subaru's commercials, the Subaru dogs in Covington LA act as the family of canines portraying typical human family interactions. Dropping the kids off at school, dad's (Auggie) wandering eyes, big sister (Sadie) kissing her date goodnight while dad (Auggie) watches through the window, and going through a car wash are just a few of the activities. Watch for the new 2020 Subaru Outback Barkleys commercial.
A dog-approved Subaru includes water-repellant seat materials like the durable StarTex in the 2020 Outback Onyx Edition XT. Water-resistant seat covers are also offered. The pet product industry doesn't have performance standards, so Subaru sponsors several studies conducted by the Center for Pet Safety (CPS) to ensure that pet travel seats, crates, carriers and harnesses will protect pets in a crash. They use dog crash dummies by CPS that correctly mimic a dog. 
Have your canine companion bring you by Baldwin Subaru to view our pet-approved inventory of Subaru vehicles.
*The Barkleys do not live in Covington. Visit the Northshore Humane Society to adopt your own family of Barkleys in Covington.