The 2019 Crosstrek Hybrid in Covington, LA was unveiled at the LA Auto Show in 2018, adding yet another version to the lineup for the new Crosstrek model. The conventional Crosstrek has already received top marks for its safety features and practicality, and the new ability to drive solely on electric power is yet another reason to consider buying. Here, you'll learn more about the new Crosstrek Hybrid.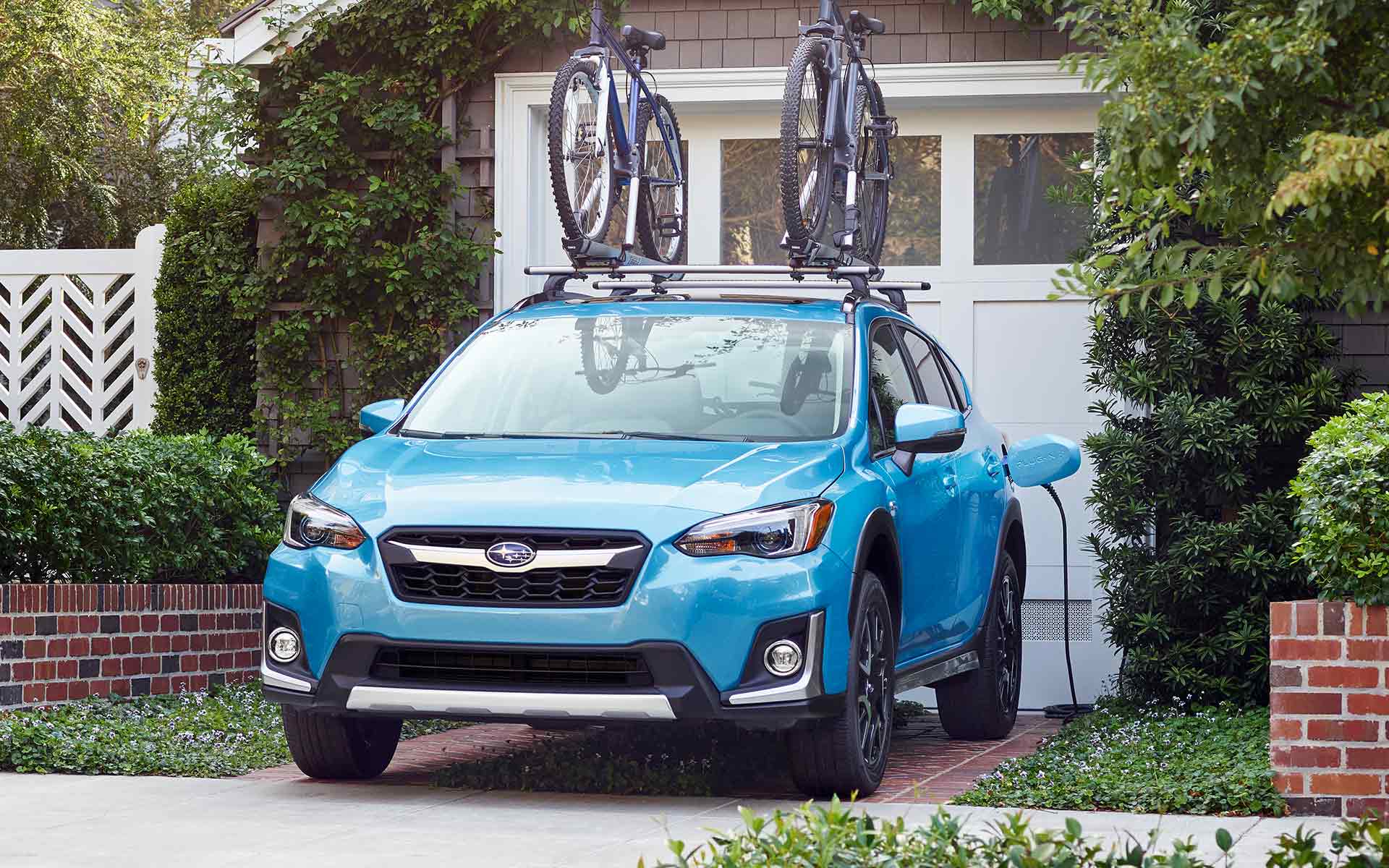 On the Outside
As far as exterior styling is concerned, the 2019 Crosstrek Hybrid is almost the same as its gas-fueled counterpart. There are a few subtle styling touches that denote its hybrid status: blue headlight rings, slightly different panels on the lower body, and a silver tinted grille. There's also a new color: Subaru calls it Lagoon Blue Pearl. With that and its 18" wheels, the Crosstrek Hybrid is a real standout.
On the Inside
The interior of the 2019 Subaru Crosstrek Hybrid in Covington, LA is also much like that of the regular Crosstrek. Subaru uses blue accent panels and contrast stitching throughout, and the Hybrid also comes with blue and gray two-toned leather on the door panels, seats, and armrests. There's a 4.2" screen in the instrument panel, which has a power output and regenerative brake charging display.
The Crosstrek Hybrid has an eight-inch touchscreen infotainment system with smartphone integration, voice activated controls, and a CD player. Available options include a TomTom navigation system, heated steering wheel, a power moonroof, and audio system upgrades. The Subaru StarLink app can be used to remotely activate the heater or air conditioner, and you'll also get heated front seats, heated mirrors, and a wiper de-icing system.
What Powers the 2019 Subaru Crosstrek Hybrid
The Hybrid has the same 2.0L four-cylinder and CVT as the conventional Crosstrek, with the addition of two electric motors. One starts the engine and serves as a generator for the battery, while the second powers the vehicle during electric driving mode and recharges the battery in regenerative braking.
The Hybrid has an all-electric range of 17 miles. At 120 volts, it takes about five hours to charge; that time is cut to just two hours at 240 volts. The Crosstrek hybrid's top speed in electric mode is 65mph, and its 0-60 time is just over ten seconds.
Driver Assistance and Safety Features
The 2019 Subaru Crosstrek Hybrid in Covington, LA has a long list of standard driver assistance and safety features, including:
· Forward collision notification
· Auto emergency braking
· Lane departure warning
· Adaptive cruise control
· Lane keep assist
· Blind spot warning
· Rear cross traffic alert
The Hybrid model also has adaptive, steering responsive headlights that turn in the direction the steering wheel is turned. It also has a pedestrian warning system that gives an audible warning to alert the driver of people walking nearby when the vehicle is at a speed of 20mph or less. Finally, there are driver knee airbags, as on other Crosstrek models.
Our Take
While this is Subaru's first entry into the plug-in hybrid market, it's not its first hybrid. With a revamped stop/start system, the 2019 Crosstrek Hybrid delivers unparalleled efficiency and refinement. View our Crosstrek inventory online or stop by our Subaru dealership in Covington, LA to learn more or to take a test drive.