One reason drivers continue to love Subaru vehicles is the company keeps improving on what appears to be perfection. The 2018 Subaru Legacy near Slidell is sure to be a driver favorite just as it has been since the vehicle was first introduced in 1989. While the exterior of the car hasn't changed much, the manufacturer has made some modifications that are sure to please, and this helps to ensure this model isn't going out of style anytime soon. In fact, the 2015 Legacy was named that year's Best Car to Buy, and the new version has more technology and features. It is sure to be a hit with drivers.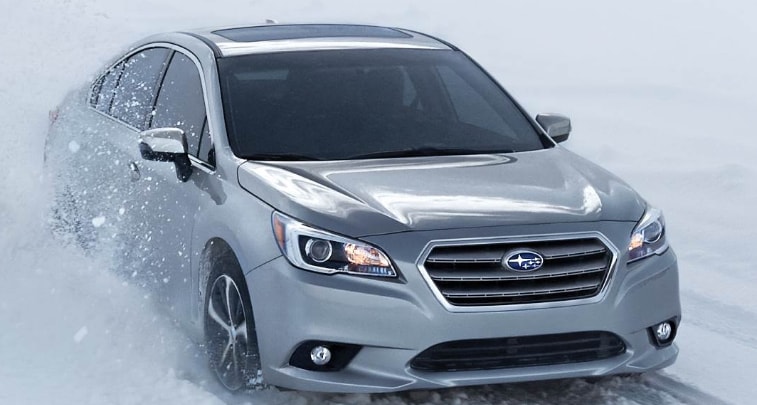 The conservative looks of the 2018 Subaru Legacy will disappoint some, but this is exactly what many drivers look for when buying a car. They don't want to stand out in the crowd, and the clean look of this vehicle is more than enough to satisfy them. Our Subaru dealers near Slidell often point out that it easily competes with others in its class, including the Honda Accord and Toyota Camry, as they aren't known for being flashy either. It's truly a matter of what a driver wants and needs when buying a car of this type.
Subaru offers four trim levels for drivers to choose from. All come equipped with the 2.5-liter four-cylinder engine, although drivers may purchase a Limited model and upgrade to a 3.6-liter six-cylinder version. The continuously variable transmission, or CVT, is also standard on this vehicle, and it comes with refined tuning to make the throttle response more progressive. One complaint drivers had in the past was this response was jumpy, but that is no longer the case. Powertrain noise has been reduced as well, which occupants of the car are sure to appreciate.
Most vehicle makers have opted to make the move to an inline or V configuration for their engines, but Subaru refuses to follow the pack. The engines found in the 2018 Subaru Legacy near Slidell still make use of the flat design. The only other manufacturer to do so is Porsche, and they do so independently of Subaru. The four-cylinder engine provides 175 HP and 174 lb-ft of torque, while the six-cylinder model offers 256 horsepower in conjunction with 247 pound-feet of torque. All trim levels come with all-wheel drive, a trademark found in most Subaru vehicles. Although some drivers feel they don't need full power to the wheels at any time, it's nice to know this feature is available if that changes.
People don't want to shout when riding in a car, but some vehicles are so loud out on the road they have no choice. Subaru wants to ensure this isn't an issue with the Legacy, thus they have added additional sound-absorbing panels to reduce the noise level. In addition, the front side windows now feature insulated glass, and the driver experience has been improved in a variety of other ways.
In-car tech has likewise been upgraded. Choose the Premium trim level or higher and receive added stitching on the dashboard. Silver-tinted bezels and high-gloss black trim are also standard on these models. Furthermore, the steering wheel has been altered to provide better controls for the audio and trip computer. Drivers will find they have new color options as well, including tan, black, and gray for the interior.
The infotainment system found in this year's Legacy is the same that was seen in the 2017 Subaru Impreza. TomTom now supplies the navigation system, and this system features Apple CarPlay, Android Auto, and a number of built-in apps to make the driver's life easier. Furthermore, dual USB ports are now offered for passengers in the rear seat. As the world becomes more connected to mobile devices, this feature is sure to be appreciated by all who ride in the car. The base model comes with a 6.5-inch touchscreen, with the option of upgrading to an eight-inch screen, and over-the-air updates are included.
Subaru wants to ensure occupants of the Legacy remain comfortable and safe at all times. To accomplish this goal, the manufacturer has improved the air conditioning system. Furthermore, the EyeSight package is available on this model. This package includes things such as lane departure warning, lane keep assist, automatic emergency braking, and adaptive cruise controls. Select the Limited model and also receive LED headlights with automatic high beams. The lights curve based on information obtained from the steering wheel. These are only a few of the many safety features found in this vehicle that drivers are sure to enjoy.
Head over to one of our Slidell Subaru Dealers to check out the Subaru Legacy 2018. It's an outstanding car with a lot to offer. Subaru continues to find new ways to improve on their flagship car, and this model year is no exception. Take it for a test drive today, as you are sure to be impressed.