It's rare to find a performance sedan that is both fast and affordable, but the 2018 Subaru WRX near Hammond, LA fills that niche perfectly. Add to the mix a perfect balance between performance and fuel economy, and the end result is a daily driver that manages to be both sporty and practical.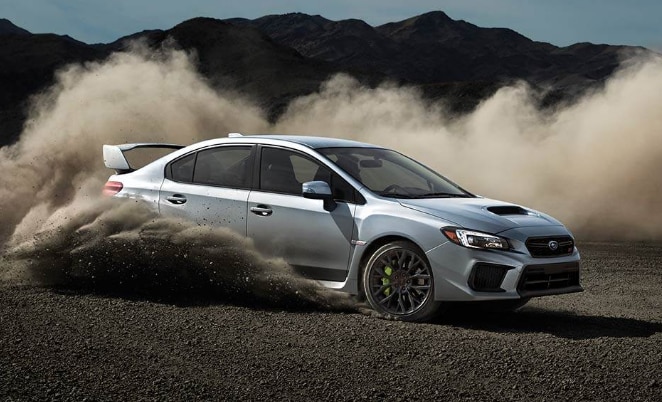 What's New This Year?
The 2018 model year has marked a few important changes to the Subaru WRX and its cousin the WRX STI alike. These include updates to the vehicle's front-end design, tweaks to its suspension tuning and steering, and improvements in insulation, and seals, as well as window glass designed to provide a slightly quieter ride than previous years' models. Additionally, the auto maker has made further changes to its still relatively new EyeSight advanced safety and driver assistance package.
Trim Levels and Powertrains
The 2018 Subaru WRX near Hammond LA is available in five trim levels. The WRX comes in base, Premium, and Limited trim. These come with a 268 horsepower, 2.0L turbo-4 engine paired with a manual transmission. The Limited trim also offers drivers the possibility of upgrading to a continuously variable automatic transmission instead of the manual, although many drivers prefer the feel of the manual transmission.
The WRX STI comes in both base and Limited trim levels and boasts a 305 horsepower engine in addition to high-performance brakes and a sportier suspension. As is the case with just about all of Subaru's vehicle lines, the WRX and WRX STI come with standard all-wheel drive in all models.
Technological Features
The base WRX models come equipped with rearview cameras, Bluetooth connectivity, a 6.2-inch touchscreen, and an infotainment system with a six-speaker media system, USB and aux inputs, satellite and HD radio, a CD player, and advanced smartphone app integration. The WRX Premium adds heated front seats to the mix and upgrades the 6.2-inch touchscreen to an even 7 inches. The Limited trim comes standard with automatic high beams and keyless entry and ignition as well.
All the Extras
Options to the Premium trim include an upgrade to the 7-inch touchscreen, the inclusion of an advanced Harman Kardon audio system, upgraded brake pads, a brand-new Performance package, and red-painted brake calipers. All Limited trim models are also eligible for upgrades to navigation, audio systems, and blind spot and rear cross-traffic monitoring and alert systems. Only those models equipped with the continuously variable automatic transmission are eligible for upgrades to Subaru's EyeSight system, though.
What Exactly is EyeSight?
Drivers of Subaru's older models may not be familiar with their relatively new advanced safety and driver assistance technology. Experts in the field have had nothing but praise for EyeSight. This system bundles automatic emergency braking, adaptive cruise control, bending fog lights, lane departure warnings, automatic high beams, and more to create a highly advanced driver assistance package. It is, however, only available on vehicles equipped with the automatic transmission.
Performance and Handling
Drivers looking for a vehicle that can easily double as a daily driver and a weekend track car won't be disappointed by the 2018 Subaru WRX near Hammond LA. The WRX accelerates from 0-60 in just 5.4 seconds, a full second faster than most of its competitors. Its performance tires and braking leave nothing to be desired, and the steering offers plenty of feedback. Its mid-cornering response is especially impressive, as it has one of the better electric steering assist systems currently in use. Plus, its standard all-wheel drive keeps the WRX well-grounded even at high speeds.
Comfort and Style
For such a sporty little car, the Subaru WRX near Hammond LA provides drivers and riders alike with a remarkable level of comfort. Its tall roof line and sporty seats make getting in and out of this compact sports sedan much easier than would be expected of most sports cars. The interior is also much roomier than a standard sports car, with enough space for even a tall passenger to ride in the back seat behind an equally tall driver.
The interior design is comfortable and spacious, with soft-touch materials and comfortable seats. The eight-way power adjustable driver's seat comfortably accommodates drivers of just about any height, and supportive drivers and passengers seats make for a comfortable ride even after a full day of driving. Although the back seats are plenty spacious and comfortable, the front row seating is what makes this vehicle stand out in its class in terms of comfort.
The view of the road is also impressive since the low dash and hood allow for more visibility than most sports sedans. When it comes to backing up, the standard rearview camera is hardly necessary, but it is a nice touch.
Head Over to Check One Out Today
Drivers interested in checking out a 2018 Subaru WRX in Hammond can head down to our dealership today. Our friendly and attentive staff can answer any questions about standard and available features and help drivers decide for themselves whether the new WRX is the car for them. We have found that previous models of the WRX have truly spoken for themselves, and would encourage anyone on the fence to head down for a test drive.