Subaru has built a well-deserved reputation for offering top-of-the-line safety features and producing quality, affordable vehicles. As a result, customers heading to their local Subaru dealership typically have extremely high expectations. Drivers interested in purchasing a 2018 Subaru Forester near Gulfport MS will find the manufacturer's newest crossover compact utility wagon meets and exceeds those expectations. Every trim level represents incredible value for the price, and each model comes with its own set of exciting options and available features, including panoramic power moon-roofs, 7-inch touchscreen infotainment systems, and more.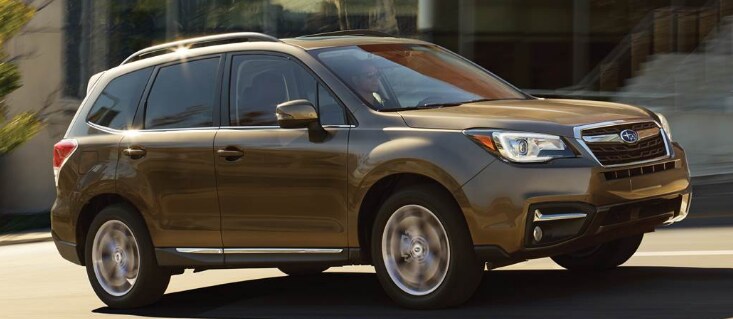 What's New?
The Subaru Forester has performed well in the past, which has helped to bolster understandable excitement about next year's models. Available in four trim levels, the 2018 Subaru Forester continues to offer arguably the best value in its class. This year's Forester has seen improvements in its noise-reduction technology in addition to even more advanced safety features.
Safety First
Subaru has built its reputation on solid performance ratings in just about every federal and independent safety test. The Forester follows suit, achieving a Top Safety Pick+ rating from the IIHS and five stars from the NHTSA.
This year's models all come with a standard rearview camera. All Limited and Touring models also boast standard blind spot and rear cross-traffic monitors and alerts. Of course, advanced airbags and other passive safety features come standard on all models.
Truly safety-conscious drivers will want to test drive a 2018 Subaru Forester near Gulfport MS that is equipped with Subaru's EyeSight camera and advanced safety system, though. For anyone who hasn't driven a recent-model Subaru, the EyeSight system will come as a wonderful surprise. It employs two color cameras to identify hazards in front of the car, allowing it to activate the vehicle's brakes to avoid a collision. This year's system comes standard with automatic reverse braking and headlights. On Touring models, it also comes with adaptive cruise control.
Performance and Handling
For a crossover vehicle, the 2018 Subaru Forester has surprisingly sporty, car-like handling. Despite having some height on other Subaru vehicles, it experiences minimal body roll, and the steering remains nicely weighted and natural even in sharp curves.
Most trim models come standard with a 170HP 2.5L four cylinder engine. Lower-end models feature a six-speed manual gearbox, while all others feature an impressive continuously variable automatic transmission, or CVT. Subaru's CVT is designed to simulate gear changes via a system known as SI-Drive. Consumers looking for a little bit more power might be interested in the 2.0XT, which comes with a 2.0L turbocharged four-cylinder engine that bumps its power up to 250 horsepower.
Regardless of which engine and transmission drivers choose, the Forester's all-wheel drive makes it a solid off-roading vehicle. It's 8.7 inches of ground clearance have proven to be a great advantage when heading off the beaten path. Additionally, the vehicle offers an "X-Mode" that is specifically tailored for off-road driving. This driving mode acts as a supplement to the vehicle's normal front-to-back distribution by redistributing power from left to right at low speeds as well. This feature allows the Forester to handle hills that are well out of the range of other vehicles in its class.
Those more interested in getting off the road using boats or camp trailers will also be excited to know that the Forester has a 1,500 lb towing capacity, as it allows this compact SUV to tow everything from small trailers to jet skis with ease. Even when towing, its fuel economy remains competitive.
Comfort and Style
Drivers will find that sitting behind the wheel of a 2018 Subaru Forester in Gulfport makes a statement in a way that many of its competitors do not. The driver's seat is positioned high up and far enough back from the dashboard to allow plenty of elbow room and create a feeling of spaciousness. Add to that a low window line and upright shape, and the end result is excellent visibility and a surprisingly stylish ride.
Passengers can also ride in comfort, with ample space in the rear seats to accommodate even taller passengers. Plus, even the base models include a three-position reclining feature for the back seats, leaving even picky passengers with little to complain about.
When it's cargo that needs to be transported, and not people, the second-row seats can be folded down to make use of the crossover's impressive 74.7 cubic feet of cargo space. Its designers have even included an optional one-button, fold down mechanism that makes maneuvering the rear seats up and down a cinch.
Take One for a Test Drive
The best way to find out more about the changes being made to this already popular line is to head to a nearby 2018 Subaru Forester dealership. As one of the area's premier dealerships, we have knowledgeable and professional sales personnel on hand to answer any questions customers might have, whether they're avid Subaru crossover enthusiasts or just looking into purchasing their first SUVs.