It's safe to say the Subaru Legacy near McComb, MS has entered a more mature phase of its life. Unlike earlier models, which required more substantial changes to remain competitive, the 2018 Subaru Legacy maintains the same general appearance as last year's model. After all, the 2017 models' modest good looks and practicality left little to be desired. Next year's models have, however, added some impressive new features, including added touches of luxury and style and an impressive array of new technological upgrades.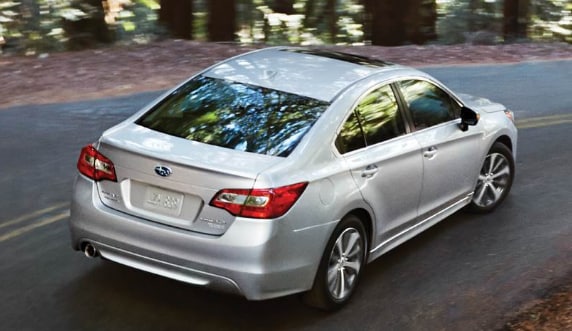 Engine and Powertrain
As in previous years, drivers looking to purchase a 2018 Subaru Legacy near McComb MS have their pick of two engines. The base, Premium, Sport, and Limited trims all come standard with a 175 horsepower 2.5L 4-cylinder engine, although drivers purchasing the Limited trim models have the option of upgrading to a more powerful 256 horsepower 3.6L 6-cylinder engine. Both of these engines utilize a flat design, which, interestingly, is shared only by Porsche, although the two companies have developed their respective engines independently.
Last year's continuously variable automatic transmission has been tuned up a bit, improving its handling and reducing some of the powertrain noise associated with previous years' models. As with almost all Subarus, every trim level comes standard with all-wheel drive.
Ride in Style
Subarus are usually known for safety and practicality, but next year's model adds new touches of luxury to its still surprisingly affordable line. Next year's models have seen the addition of extra sound-absorbing panels in the sedan's body, and insulated glass on the front windows. Plus, all trim levels Premium and above now come with added silver-tinted bezels, extra high-gloss black trim, and stylish stitching on the dashboard for a little bit of extra flair. When it comes to customized style, the Legacy is now available in three interior color schemes: black, tan, and now gray.
Technology Upgrades
The upgrades drivers of a 2018 Subaru Legacy near McComb MS are most likely to notice are technologically based. For instance, the steering wheel has been revised to accommodate more impressive integration of audio and trip computer controls. The center stack has also seen some upgrades and now comes with a choice of screens. The base models feature a 6.5-inch screen, with an available 8.0-inch screen on all models. These comprehensive systems even feature over-the-air updates.
The infotainment system itself may look a bit familiar to true Subaru enthusiasts, as it is shared with this year's model of the Subaru Impreza. The navigation software for the 2017 Impreza and the 2018 Legacy is supplied by the highly acclaimed TomTom company and is designed to integrate Android Auto and Apple CarPlay capabilities as well. The infotainment system comes complete with plenty of built-in apps, such as a cloud-based navigation system supplied by Magellan. The auto maker's designers went all-out with the practical technological upgrades this year too, even including an additional pair of USB ports intended for use by back seat passengers.
Practical Upgrades
As noted, next year's Impreza makes good use of the same spacious interior design as other recent models. Don't be tricked into thinking that means its designers have been asleep on the job, though. The climate control system has been revised for next year's models. Revisions include improvements to the AC system's operation and a larger clock beneath the infotainment system. As always, the 2018 Subaru Legacy in MS remains competitive in its class in terms of gas mileage as well.
Subaru is Synonymous With Safety
Any driver making the switch from an older model Subaru will already know that they have nothing to worry about when it comes to safety. After all, the company has built its reputation on providing a safe and comfortable ride at an affordable price regardless of the models drivers choose. The 2018 Legacy is certainly no exception. Although safety scores have yet to be issued for next year's models, all signs point to Subaru continuing their trend of garnering top safety scores from federal and private agencies.
Next year's Legacy models all come with the option of including Subaru's now famous EyeSight active safety and driver assistance package. This includes automatic emergency braking, lane departure warnings, adaptive cruise control, an advanced lane keep assistance system, and more. In addition to these optional active safety features, Limited trim models also come with newly redesigned LED headlights and automatic high beams for increased convenience and safety. This advanced headlight technology allows the high beams to curve according to the position of the steering wheel, giving drivers better visibility even at night.
Head to Our Dealership Today
Curious to learn more about the new Legacy? Why not head on down to the premiere Subaru Legacy dealership in McComb MS to check one out? Our friendly and experienced sales team is always on-hand to answer any questions, but when it comes to winning over more drivers, we're confident that the new Legacy will speak for itself.