Individuals who visit a dealership will find a great deal to love about the 2017 Subaru Forester near Gulfport MS. This year's model features updated styling and is a great deal of fun to drive. The all-weather capability is sure to be appreciated, and the roomy cabin is great for long trips. Good fuel economy is one thing that draws many drivers to this model, and all love the fact it's great both on the road and off. It's a crossover any person would love to call their own.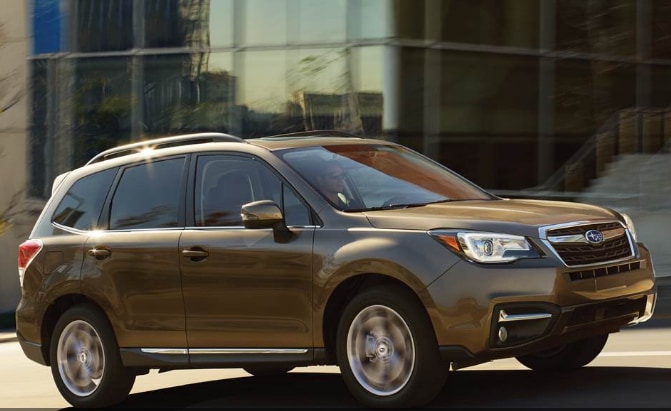 Model Year Updates
For 2017, Subaru opted to make some upgrades to the Forester. Visit our dealership to see the revisions made to the front fascia and the new hexagonal grille in the front. The updated headlights now come with a black inner bezel, and the LED taillights in the rear come with the C-shape motif Subaru is known for. Furthermore, they have now included a rear spoiler on premium models that is coordinated with the body color, and the alloy wheels have been revised.
The interior of this vehicle wasn't overlooked when Subaru went to make changes for 2017. The steering wheel, cruise control, and audio controls have all been updated, and Subaru opted to add more sound dampening and thicker glass. The windshield is now acoustic, and the door seals have been upgraded. In addition, the Touring models now come with features such as keyless entry with push-button start and a leather interior.
Available Trim Levels
Visit our Subaru dealers near Gulfport MS and we'll be happy to show you the many trim levels available. The 2.5i four-door, all-wheel drive vehicle gets 24 miles per gallon combined and features a 170-hp, 2.4-liter H-4 engine that accepts regular gas. It comes equipped with a six-speed manual with overdrive, and drivers can select from a range of engines and transmissions if they wish to upgrade. This is the base model, and the vehicle only improves from there. A person may also choose the 2.5i Premium 4-door, all-wheel-drive model, the 2.5i Limited four-door, all-wheel-drive version, and the 2.0XT Premium four-door, all-wheel-drive option.
We stock the 2.5i Touring four-door, all-wheel-drive Forester, which gets 28 miles per gallon combined, and the 2.0XT Touring four-door, all-wheel-drive model. This vehicle is capable of obtaining 24 miles per gallon combined and features a 250-hp 2.0-liter H-4 premium engine. With so many trim levels available, every driver will be able to find the perfect model for their needs. Most trim levels come with automatic climate control and auto front windows. The same is true of two-position memory seats, and a driver may opt to have a power liftgate added to their 2.5i Premium model.
Driving Impressions
This vehicle is one people enjoy driving, as its turbo power allows it to stand above its competitors. Choose the CVT automatic transmission and revel in the manual-shift options, of which there are many, and the SI-Drive system which allows the user to adjust the response. Acceleration and braking are both good in this model, which is capable of going from zero to 60 mph in only 6.3 seconds. Going off-road requires no effort on the part of the driver thanks to the hill descent control and low-speed throttle modulation.
Safety
Individuals want to know they are safe when in their vehicle, and this is never an issue when one is driving a 2017 Subaru Forester near Gulfport MS. This vehicle has repeatedly been named an IIHS Top Safety Pick and remains one of the safest vehicles of its type on the road today. All trim levels come with front, side, curtain, and driver's knee airbags, along with ABS and brake assist. Furthermore, they include rollover sensors, a rearview camera, and daytime running lights. The Eyesight active safety tech package is also offered and includes features such as steering-responsive headlights and reverse automatic braking.
The NHTSA reviewed the Subaru Forester 2.0XT Premium and gave it excellent ratings. It received five stars in the overall and overall side categories. For the overall front and overall rollover rating portions of their test, this vehicle receives four stars. At this time, there have been no recalls on this model.
Warranty
The 2017 Subaru Forester comes with a 36-mo, 36,000-mile mile, bumper-to-bumper warranty. The powertrain comes with an additional 60 months or 60,000 miles, so you d can feel comfortable about the reliability. Every vehicle also comes with 36 months or 36,000 miles of roadside assistance coverage.
Drivers who have owned Foresters in the past will appreciate the changes made for the current model year. For those who have never driven a Forester before, now is the time to do so. This vehicle has a great deal to love, including the all-wheel drive, and the features a person wants in their car. Visit one of our dealerships today to check it out, but be prepared to buy. Once you see all this crossover has to offer, you won't want to go home without it.