Individuals in the market for a mid-size sedan will definitely want to take the 2017 Subaru Legacy near Slidell for a test drive. While there are numerous vehicles in this class, the Subaru stands out in certain areas, and this is why many drivers are heading to our dealerships to check it out. Not only does it have the all-wheel drive Subaru is known for, it now offers the high-tech features of others in its class, and the fuel economy is nothing to scoff at either. The fact that a driver can add the EyeSight driver technology and not pay a fortune to do so is simply an added bonus.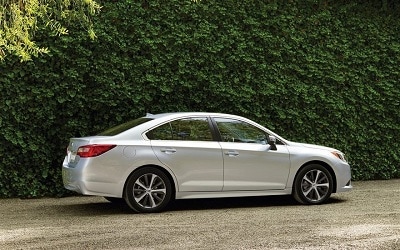 Driving Impressions
One of the first things a person will notice when they test drive the Legacy at one of our Subaru dealers near Slidell LA is the excellent handling. This model features a boxer-type engine, which simply means the pistons have been positioned parallel to the ground. In most cars, they are situated in a vertical or V position. The parallel placement shifts the engine weight lower, and this allows for the improved handling. In fact, many drivers say the car is more responsive than they would expect from a vehicle that only produces 175 horsepower.
Exterior Features
The 2017 Subaru Legacy isn't lacking in terms of style. One thing individuals will notice is Subaru incorporated the big, trapezoidal grille its vehicles are known for into this model, and the six-cylinder models come equipped with dual stainless-steel exhaust outlets. There is one benefit that may be overlooked when this car is first driven, but it will be appreciated over time. This is the small details found in the car, such as the small window situated below the A-pillar that allows outstanding visibility.
Interior Features
The interior of the 2017 Subaru Legacy near Slidell isn't lacking either. Five passengers comfortably fit in the car, and the interior design is both useful and modern. Occupants find a touchscreen infotainment system in the center stack, and all cars come with a rearview mirror as part of the standard features. Passengers have plenty of space, and drivers are certain to love the intuitive, easy-to-reach controls. This includes a command screen that is operated with nothing more than a swipe of one's finger. Choose a limited edition trim level and even the rear seats are heated to ensure everyone is comfortable in the harshest weather.
Engine Options
Most Subaru Legacy models come equipped with a 2.5-liter, four-cylinder engine capable of producing 175 horsepower. Opt to buy the Limited model and the vehicle comes with a 3.6-liter, six-cylinder engine that puts out 256 horsepower. Both engines feature the boxer configuration mentioned above, which helps to minimize vibration while increasing the stable feel of the car. One thing drivers notice is the continuously variable transmission feels very similar to a regular automatic. Drivers appreciate the 36 miles per gallon they get with the four-cylinder model, as the price of 87-octane gas has been decreasing recently. This allows them to save even more at the pump.
Standard Features
Subaru Legacy dealers enjoy pointing out the standard features found on this car. This includes a 175-horsepower, 2.5-liter four-cylinder engine coupled with a continuously variable automatic transmission. In addition, all models come with active grille shutters that improve the gas mileage and a touchscreen CD stereo with an MP3 jack, iPod connectivity, and integrated Pandora. This is in addition to the front airbags, cruise control, electronic stability system, electronic parking brake, anti-lock brakes, and backup camera. Furthermore, gear changes can be simulated with the help of the paddle shifters found on the steering wheel.
Optional Features
Individuals may choose from a variety of optional features, such as a Sport model with unique trim on the interior and exterior. The Limited model features a leather interior, and buyers may choose a 3.6-liter six-cylinder engine with this trim level. Upgrade to the EyeSight driver-assist system or select a moonroof or navigation system. Other upgrade options include a Harman Kardon audio system, a blind spot warning system, and keyless entry with push-button start. Every driver can build a car they love thanks to the many upgrades now available at our dealerships near Slidell LA. Be sure to check them all out.
Although the mid-size sedan category has many vehicles available, very few can stack up to the Subaru Legacy. The all-wheel drive feature alone makes it truly stand out in the crowd. If you have yet to test drive this car, now is the time to do so. You may find this is the car you have been searching for. There's a reason it remains in the popular Subaru lineup. It comes packed with standard features people are looking for and many options that make building the ideal car easier than ever before.