The station wagon may be a thing of the past, for the most part, but drivers can still have many of the same features with the help of the 2017 Subaru Outback near New Orleans. It merges a crossover SUV with the station wagon to create an amazing car, and all Subaru Outback models come with all-wheel drive. Five people fit comfortably and drivers choose from either a four- or six-cylinder engine. This vehicle is known for great fuel economy, and Subaru has opted to add a new Touring trim level. Any driver looking to purchase a new car should be sure to check this vehicle out.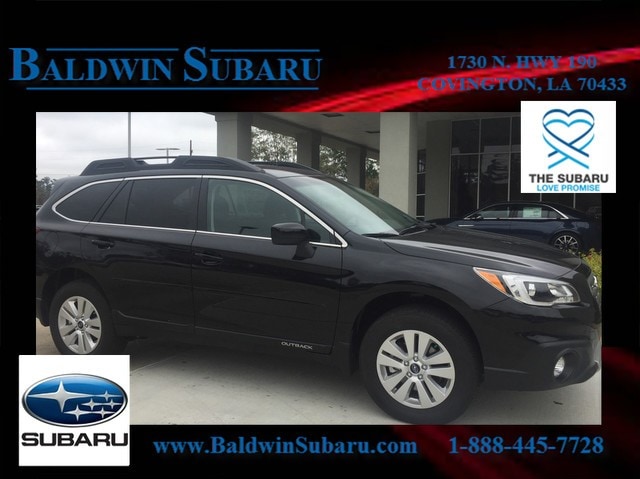 Standard Features
All Outbacks now feature active grille shutters, which help to keep the gas mileage down, and they include required safety systems, including anti-lock brakes and front airbags. Furthermore, the vehicle offers 8.7 inches of ground clearance and a backup camera. These are only a few of the many features drivers are sure to appreciate. They'll also love the CD stereo with a touchscreen that includes iPod connectivity, Bluetooth streaming audio, Pandora integration, and more. Choose the CVT model and get shift paddles on the steering wheel to mimic manual gear shifts. The cargo area now includes release levels for the folding backseat to make it easier to access items in this area and store gear.
Optional Features
Subaru dealers near New Orleans happily show off features a driver may want to make their car the perfect ride for them. This includes a moonroof, a power liftgate, and a navigation system. Furthermore, drivers may customize their cars by adding keyless access with push-button start, high-intensity-discharge low-beam headlights, and heated rear and front seats. Other upgrades to consider consist of things such as a blind spot warning system, complete with rear cross-traffic alert, and a Harman Kardon premium audio system.
Safety Features
In addition to the above mentioned required safety systems, the Outback contains numerous other features the occupants benefit from. This includes daytime running lamps and brake assist. Most models now come with the EyeSight Driver Assist Technology package consisting of features such as sway warning and pre-collision braking. Upgrade to the 2.5i Premium model and receive the blind spot detection system, a feature that includes rear cross-traffic alert and lane change assist. Reverse automatic braking, to prevent collisions when reversing, is only available on certain models, thus drivers must determine if this is a feature they want and need.
Handling
When visiting Subaru Dealerships Near New Orleans, drivers often want to know more about the handling of a particular vehicle. The Outback is perfectly suited to take on both on and off-road conditions with ease. It's best to go with the six-cylinder engine if power is the top concern. Those who like to engage in adventures off the beaten track will appreciate the responsive steering and suspension. This vehicle, overall, is more rugged than others in its class, making it ideal for families who love to take off and have fun.
Comfort
Comfort is of concern for most, and the Outback doesn't disappoint here either. The seats are plush, and drivers can use the power lumbar adjustment to ensure they have adequate support at all times. There is nothing to complain about during the ride, although large bumps may be felt in the cabin. For many who go off-road, this is part of the fun though. In addition, engine noise is hardly noticeable, and people can easily carry on a conversation when the vehicle is idling, as it is extremely quiet at idle.
Technology
People may assume the functionality of this vehicle leads to a lack of user technology. Nothing is further from the truth. Occupants find this model is equipped with a touchscreen interface that is easy to use and comes with a number of smartphone-connectivity apps and features. Buyers may choose to upgrade to the Harman Kardon audio system with 12 speakers and a subwoofer or add a navigation system. Many opt for both to ensure their vehicle has everything they need. Starlink Multimedia and the EyeSight driver assist system are other items to consider. The EyeSight system does everything from detecting pedestrians to mitigating forward collisions with the help of automatic emergency braking, and these are only a few of the technological features that may be found in an Outback on one of our dealer lots.
Head to one of our dealerships today to check out the 2017 Subaru Outback near New Orleans. Thanks to the versatility of this car, you can head out at any time and have an adventure, whether it be in town or off the beaten track. Vehicle owners don't have to sacrifice versatility and ruggedness for refinement and comfort, as all can be found in this one amazing vehicle. Go for a test drive today, and you'll see why many drivers refuse to own any other vehicle.