For many drivers, crossover SUVs have become the new sedan, but with an added bonus: off-road capabilities. Drivers look for many of the same qualities in a crossover vehicle. After all, safety, comfort, drivability, and a reasonable price are desirable qualities no matter what type of vehicle drivers purchase. Buying a 2017 Subaru Crosstrek near Biloxi MS confers these advantages and more in just about any driving conditions. In fact, its design is based on the company's Impreza, except with a significantly more rugged feel, higher ground clearance, and trail-ready suspension. What's not to love?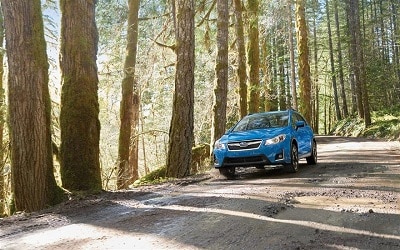 Size and Efficiency
The 2017 Subaru Crosstrek is the smallest crossover SUV produced by the company. This compact size helps to increase fuel economy and makes it easy to drive, but don't be fooled—it doesn't do so at the expense of leg room or cargo space. The standard roof rack is capable of holding up to 150 pounds, and folding down the back seats frees up an impressive 52 cubic feet of cargo space. Those who're looking to bring along the whole family, or up to four adult friends, won't be disappointed either. The back seat can comfortably accommodate two adults, or even three if they are exceptionally comfortable with each other.
What's New This Year?
It's safe to admit that not much has changed from the previous year's model because few changes were necessary. As one of the premiere Subaru dealers near Biloxi, we can attest that the 2016 Crosstrek sold impressively and garnered itself a good deal of new life-long fans. The biggest change ushered in by the 2017 model is the addition of a new trim level. This is the first year that the Crosstrek has been available in the new 2.0i Premium Special Edition trim level. The new model makes some cosmetic upgrades to the 2.0i Premium and comes standard with some extra features. This is certainly exciting news for drivers who love all of the bells and whistles but don't love exorbitant prices. The Premium Special Edition comes with rear cross-traffic alerts, blind-spot monitoring, and even ambient cabin lighting, at a lower price than the Limited.
Standard Features
Every 2017 Crosstrek is built around a 2.0L flat-4 engine with a choice of a 5-speed manual transmission or a CVT. The base level Crosstrek is only available with the manual transmission, which some of our customers find to be an inconvenience. Most opt for upgrading to at least the 2.0i Premium for exactly this reason. However, even the base models come with a variety of desirable features. Fog lights, roof rails, a rear-view camera and touchscreen display, and both Bluetooth and smart-phone integration are all included in every 2017 Crosstrek.
Available Features
The 2017 models are available in four trim levels: 2.0i, 2.0i Premium, 2.0i Limited, and the 2.0i Premium Special Edition described above. The 2.0i Premium is a favorite of drivers who are cost-conscious but want a little bit of extra comfort. The Premium comes standard with heated side mirrors and front seats, a cargo cover and removable cargo tray, a leather-wrapped steering wheel, and the addition of two speakers to the standard four-speaker audio system. Available options include sunroofs, Starlink connected services, upgraded touchscreen infotainment systems, voice navigation and control, and Subaru's new EyeSight Driver Assist system. The 2.0i Limited is the most advanced model available, coming standard with all the Premium's optional features plus leather upholstery, automatic climate control, an upgraded dash, a sound-insulated windshield, and more.
Advanced Safety On and Off Road
Subaru has always been known for really going the extra mile when it comes to safety. Anyone buying a 2017 Subaru Crosstrek near Biloxi MS will find that reputation is well-earned. One of the most exciting advances Subaru has made recently in safety is the creation of the EyeSight system mentioned above. It is optional on most models and is also completely worth the extra investment. Adaptive cruise control, blind-spot monitoring, rear traffic alerts, front collision mitigation, and lane departure warnings are just a few of the features included in the bundle.
On and Off Road Performance
Crosstrek dealers near Biloxi MS may be unlikely to allow their customers to unleash its full potential, as the full scope of this SUV's capabilities can only be truly appreciated off-road. Rest assured, though, that the coordinated steering, solid brakes, and carefully calibrated stability control system are all more than capable of handling even quite rough off-road terrain. Plus, the Crosstrek has better ground clearance, including both front and rear bumper clearance, than just about any other vehicle in its class.
Take One Out For a Spin
There is a reason we are one of the most popular Biloxi area Subaru dealers. Our customers know they can turn to our knowledgeable associates with any questions and, while our customers aren't heading out on grand off-roading adventures on their test drives, they are returning to our dealership excited at the prospect of doing so as soon as they've signed the lease. Don't believe it? Head on over and take a new Crosstrek out for a spin today to find out why.