Subaru realized they had an issue with the BRZ. Drivers often stated they couldn't easily distinguish itself from its Toyota sibling, as they developed this car in conjunction with Toyota, and the manufacturer set out to change that. The result is the new 2017 Subaru BRZ in Covington LA, and this goal was accomplished by updating the exterior of this model, revising the interior, improving the menu of features and the performance, and adding a new Track mode. The result is amazing, and drivers who have yet to see these changes should head to one of our Subaru Dealers near Covington LA to see the upgrades. Those who do so are guaranteed to fall in love and want to take the car home with them.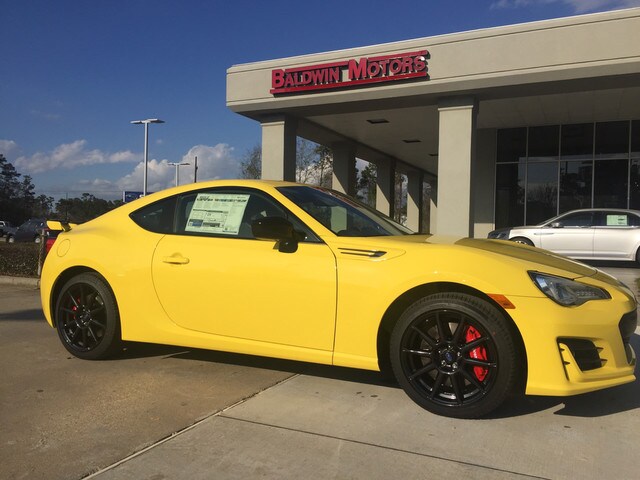 Performance And Handling
One thing Subaru focused on when updating this car was the performance and handling. The 2.0 Boxer engine found in the coupe now features a new camshaft, new valves, and a better cylinder block. To provide better handling and performance, Subaru opted to pair these upgrades with an improved aluminum intake manifold and took this a step further by redesigning the exhaust manifold. The result is increased airflow and better performance figures. The engine now provides 205 horsepower and 156 lb-ft of torque when paired with the manual transmission. Drivers choose between this six-speed transmission and a six-speed automatic version featuring paddle shifters. The automatic option puts out 200 hp and 151 lb-ft of torque.
They didn't stop there, however. They went on to add a rear stabilizer bar that is larger, along with updated dampers and coil springs. The rear wheel housings, transmission cross-member plate, and strut tower braces were reinforced to raise the thresholds of the stability control. To reflect these changes, Subaru opted to rename the Sport, which is now known as the Track drive mode. All upgrades benefit the performance and handling of this machine and make the car a fun ride from start to finish. Drivers may expect to get 21 miles per gallon in the city and 29 miles gallon on the highway, which is certainly more than acceptable for a vehicle of this type.
Exterior Updates
Visit Covington Subaru dealers to test drive the 2017 Subaru BRZ and you are sure to be impressed even before getting behind the wheel. LED headlights have now replaced the C-shaped headlights this model was known for, as the LED versions help to reduce power consumption of the car while improving visibility. In addition, the front bumper cover has been updated, and now sits lower on the car. It is also wider, and both changes help to improve the stability and aerodynamics of the car. Choose a Limited or Premium trim level and receive a body-colored aluminum rear spoiler. Both trim levels also come with 17-inch, multi-spoke aluminum alloy wheels that come with a black and machined finish.
Interior Upgrades
Subaru didn't ignore the interior when they made changes to this model. They opted to modernize the interior to match the outer appearance. This vehicle now comes with a 4.2-inch performance display, an updated steering wheel, and accents made using premium materials. This is in addition to the Alcantara seat inserts and the new controls for the Bluetooth and audio systems. Drivers may choose to upgrade their car also, selecting from features such as heated front seats, dual-zone automatic air conditioning, and leather and simulated suede upholstery. Keyless access with push-button start is another option a driver may wish to include in their new ride. Some may complain that the interior is plain, but Subaru wants the individual to focus on the driving experience. That's what truly makes this car amazing.
Safety Features
One thing Subaru refused to compromise on when redesigning the BRZ was the safety of the vehicle occupants. This car comes equipped with front, side, and curtain airbags and incorporates the Ring-shaped Reinforcement Frame safety structure. Furthermore, the manufacturer opted to include many safety features as standard, including brake assist, a rearview camera, daytime running lights, and ABS. Drivers benefit from these features without paying an extra price to remain safe and secure
The Subaru BRZ is an outstanding car, and Subaru has only improved on this model. Braking and handling have improved, the car is fun to drive, and drivers can drift with the help of the stability control. This well-balanced car is ideal for the car enthusiast, and all are sure to enjoy the increased power. The dialed-in chassis and controlled body motions are a treat, and the rear-wheel drive is exactly what is needed for this car. It's a deviation from other Subaru models, as this is a manufacturer notable for its all-wheel drive offerings. Drivers are sure to appreciate that they recognized the need for this deviation, as the car is simply a pleasure to drive.
Be sure to check out the 2017 Subaru BRZ in Covington LA. Even if you aren't in the market for a new car, you will decide this is one you cannot live without.