The 2018 Honda CR-V in Covington, LA and the Subaru Forester are two of the most popular entries in compact crossover segment are.  Compact crossovers top the list of drivers looking for a versatile everyday vehicle with a commanding view, tall ride, abundant interior space, and nimble road manners. While the Honda CR-V offers decent performance, a closer look at the 2018 Forester's exclusive features and outstanding capabilities makes it the superior choice.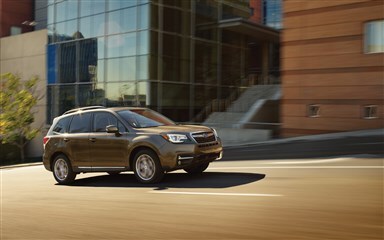 Safety Comparison
The 2018 Subaru Forester comes standard with Anti-Whiplash Seats. This moves the driver and front passenger headrests forward in the event of a rear-end collision, offering protection from whiplash. Sadly, the 2018 Honda CR-V doesn't have this important safety measure.
You won't be able to obtain backup collision prevention brakes on the CR-V either. Fortunately, the 2018 Subaru Forester can be outfitted with an optional Reverse Automatic Braking that will automatically apply brakes upon input from the rear sensors, minimizing the risk of colliding with objects and people behind the car.
Finally, the coveted All-Wheel Drive (AWD) is standard on the 2018 Subaru Forester, which means you get maximum traction and stability no matter what kind of road you're tackling. All-Wheel Drive only counts as an upgrade on the CR-V, so you have to pay more for a feature that comes standard on the Forester.
Passenger Space Comparison
An essential consideration for crossover buyers is interior volume; no one wants a tight fit in a vehicle of this size, whether it's fully loaded with passengers, gear, or both. The 2018 Subaru Forester trumps the Honda CR-V in this arena, with an astounding 108.3 cubic feet of passenger volume versus the CR-V's mere 105.9.
The Forester also has 3.5 inches more rear hip room, 1.3 inches more front headroom, and .9 inches more rear shoulder room than its rival. Top this off with the Forester's available rear seats recline (not offered on the CR-V), and you have a car that's infinitely comfortable and cozy whether you're going on a quick drive to work or journeying cross country.
Reliability Comparison
The 2018 Subaru Forester's brake rotors are bigger than the CR-V's, giving it much better stopping power. On the Forester 2.0XT, the standard front and rear disc brakes are vented. This allows them to dispel heat to perform shorter stops with less fading.
Take the Forester out for a spin, and you'll notice that it makes for low-effort parking, better road feel, and more control during hard cornering and at highway speeds. This is all thanks to the Forester's engine speed-sensitive variable assist power steering, a capability you won't find on the CR-V.
Maneuverability is also more effortless with the Forester's 34.8 feet turning circle, which is 2.6 feet tighter than the 37.4 feet achieved by the CR-V. Lastly, you get higher minimum ground clearance on the 2018 Forester with 8.7 inches, so you'll be able to drive off-road or over rough terrain without sustaining damage or being stopped.
Engine Comparison
Under the hood, the 2018 Subaru Forester's standard 2.0 turbo 4-Cyl generates 250 horsepower versus the CR-V's lower 190HP. It also delivers greater torque at 258 lbs.-ft. for the Forester and just 179 lbs.-ft. for the CR-V.
Independent tests by Car and Driver found the 2018 Subaru Forester faster than the CR-V. The Forester can go from zero to 80 mph in just 10.1 seconds, while the CR-V reaches the speed at a slower 12.9 seconds. Subaru's BOXER ENGINE configuration also gives the Forester a lower center of gravity that doesn't sacrifice ground clearance while improving handling stability, a configuration that's not offered on the CR-V.
With a rich feature set, dynamic driving attitude, off-road capabilities, and fantastic interior comfort, the 2018 Subaru Forester ascends to the top of the crossover class.  A lot of things makes the 2018 Honda CR-V in Covington, LA a strong entry in this segment, but it's missing a lot of critical features that the 2018 Subaru Forester offers.